Every week, Hoops Rumors takes a closer look at players who will be free agents or could become free agents next offseason. We examine if their stock is rising or falling due to performance and other factors. This week, we take a look at players from the Central Division: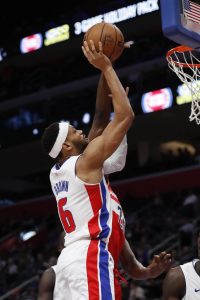 Bruce Brown, Pistons, 23, SG (Up) – Signed to a three-year, $3.9MM deal in 2018
The Pistons will have a lot of tough decisions to make prior to the trade deadline and during next off-season. Guaranteeing Brown's $1.66MM salary for next season will be the easiest one. Brown forced his way into the lineup last season as a defensive specialist. That's still his calling card but he's also shown he can play the point and his offensive game is developing. The 2018 second-round pick has averaged 16 PPG over the last three games. Coach Dwane Casey believes Brown's offense will eventually catch up with his defense, which will make him a long-term starter in the league.
Kris Dunn, Bulls, 25, SG (Up) – Signed to a four-year, $17.5MM deal in 2016
When Chicago acquired Tomas Satoransky in a sign-and-trade and drafted Coby White in the first round, Dunn entered training camp with no defined role. To his credit, the former lottery pick didn't sulk. Otto Porter's injury has opened up steady playing time for Dunn in a smaller lineup. He's an afterthought at the offensive end but he's shown some defensive tenacity. This week, he hounded Bradley Beal into one of his worst shooting nights in recent years. The Bulls can make Dunn a restricted free agent by extending a $7MM qualifying offer (or $4.6MM if he doesn't meet the starter criteria). That's certainly not a given, but considering Dunn's outlook in October, he's at least positioning himself for a multi-year offer.
Jordan Clarkson, Cavaliers, 27, SG (Up) – Signed to a four-year, $50MM deal in 2016
Clarkson signed with superagent Rich Paul over the summer entering his walk year. That should help him land a multi-year contract when he hits unrestricted free agency in July. Clarkson is basically "doing his thing" again for the rebuilding Cavaliers, providing instant offense off the bench. He's the team's third-leading scorer (13.9 PPG) despite averaging just 22.7 MPG. Clarkson's 3-point shooting (35.1%) is above his career average. If can become more consistent from long range, he'll be even more valuable on the open market.
T.J. McConnell, Pacers, 27, PG (Up) – Signed to a two-year, $7MM deal in 2019
McConnell was a starter for Philadelphia at the beginning of his career. He's now settled in as a solid second-unit floor leader. McConnell lacks a 3-point shot but he's adept at breaking down defenses and finding his teammates. He's averaging 4.9 APG in just 17.7 MPG. After a ho-hum stretch, he's perked up the last three games, averaging 10 PPG and 5.7 APG. His $3.5MM salary for next season is partially guaranteed. It's hard to see Indiana letting McConnell go at that modest rate.
Ersan Ilyasova, Bucks, 32, PF (Down) – Signed to a three-year, $21MM deal in 2018
The Bucks already have enough salary commitments next season to put them over the projected cap. Milwaukee will have to decide before free agency whether to guarantee Ilyasova's $7MM salary for next season. It's a safe bet the Bucks will seek a cheaper and/or younger backup to superstar Giannis Antetokounmpo. Ilyasova's 3-point shooting has picked up lately but he's still a subpar 32.8% for the season. He's averaging 16.3 MPG, his lowest figure since his rookie season. Ilyasova will hook on somewhere next season as a reserve stretch four but likely at a reduced rate.
Photo courtesy of USA Today Sports Images.