The Nuggets have agreed to a contract extension with head coach Michael Malone, the club announced today in a press release. Terms of the deal weren't disclosed, but ESPN's Adrian Wojnarowski tweets that it extends Malone's contract through the 2022/23 season.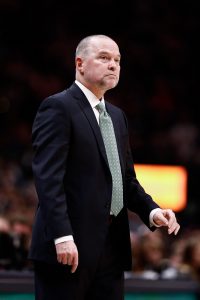 "This season and team has been about continuity, with Coach Malone being the first piece of that," controlling owner Josh Kroenke said in a statement. "We are thrilled to continue to have him lead this promising young roster and are excited about what the future holds. Coach Malone has been pivotal in this organization's success and will continue to be so."
"We have been very fortunate to have Coach Malone lead our resurgence. His tireless work ethic and passion are clearly reflected in the continued improvement of our roster," president of basketball operations Tim Connelly added in a statement of his own. "We are all extremely excited for him to continue to lead our team as we try to build a championship level organization."
Malone, who previously coached the Kings, has been on the sidelines for the Nuggets since the 2015/16 season. The team won just 33 games in his first year, but has improved its record in every season since then and is on pace to do so again in 2019/20. In total, Malone has a 194-163 (.543) record with the franchise, with one playoff series victory.
This is the second time in the last 15 months that the Nuggets have announced a new deal for Malone. The previous extension, which was finalized in October 2018, reportedly added two years to his contract, locking him up through the 2020/21 season. His latest agreement with Denver adds two more years to that deal.
Photo courtesy of USA Today Sports Images.