Entering the 2019/20 season, no Western Conference team was projected to win fewer games than the Grizzlies. Oddsmakers set Memphis' over/under at 27.5 wins and Hoops Rumors voters confidently took the under in our preseason poll.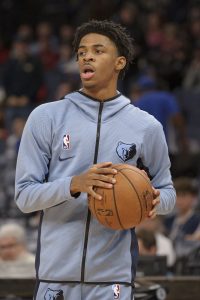 Through the first quarter of the season, that projection looked about right. The Grizzlies' 6-16 record put them on a 31-win pace, and while Rookie of the Year frontrunner Ja Morant made Memphis an entertaining League Pass team, it seemed as if it would just be a matter of time before the club fell out of playoff contention and entered the race for the No. 1 pick.
Instead, the Grizzlies have been one of the NBA's hottest teams in recent weeks, winning 12 of their last 18 games to improve their overall record to 18-22. Memphis is currently riding a five-game winning streak that includes victories over the Clippers and Spurs, and has moved into the No. 8 spot in the Western Conference.
Morant and Jaren Jackson Jr. have been the catalysts for the Grizzlies' hot streak. Morant is averaging 16.9 PPG and 7.4 APG with a .517/.368/.846 shooting line during that 18-game stretch, while Jackson has recorded 20.2 PPG and 1.8 BPG on .522/.449/.696 shooting during the same period. Dillon Brooks and Brandon Clarke are also among the club's most productive contributors, though the team isn't just relying on young players.
Eighth-year big man Jonas Valanciunas is averaging a double-double (16.1 PPG, 10.1 RPG) with a .630 FG% during Memphis' 12-6 run, while veteran forward Jae Crowder is playing more minutes this season than anyone else on the roster, providing a reliable three-and-D presence on the wing.
It seems improbable that the Grizzlies will be able to actually hold onto the No. 8 seed in the West, but it's not as if the competition for that spot has been intense. The Spurs (17-21) and Trail Blazers (17-24) were expected to be playoff teams, but have underachieved. The Suns (16-23), Timberwolves (15-24), Kings (15-25), and Pelicans (15-26) have been up and down too.
Additionally, despite being in rebuilding mode, the Grizzlies have no reason not to push for a playoff spot, since they owe their top-six protected first-round pick to the Celtics in 2020. That pick would become unprotected in 2021 if Memphis keeps it this year, so the team may just prefer to send it to Boston this season and get that commitment out of the way. It would certainly be easier to swallow if it lands at No. 15 instead of No. 7.
The Grizzlies won't give up any future draft picks or young prospects in exchange for a win-now piece, but there are potentially ways the team could fortify its current roster for a postseason push. We've been assuming that Memphis will eventually move Andre Iguodala for a package made up of an unwanted contract or two and perhaps a second-round pick — but maybe there's a way to turn Iguodala into a player that could actually contribute to this year's squad.
Obviously, if the Grizzlies can acquire a valuable draft asset for Iguodala, they should favor that return over a veteran on a short-term contract. But a veteran rotation player might make more sense than a late second-rounder. After all, young players like Morant and Jackson would probably benefit from getting some playoff experience – however brief – this early in their NBA careers.
What do you think? Are you a believer in the Grizzlies? Can they remain in the playoff hunt and maybe even grab the No. 8 seed? Will they fall off down the stretch like the Kings did a year ago? Or will their playoff dreams die even earlier than that? As they approach the trade deadline, should they be thinking at all about acquiring immediate help, or should they be focused exclusively on the long term?
Head to the comment section below to weigh in with your thoughts on the upstart Grizzlies!
Photo courtesy of USA Today Sports Images.