Every week, Hoops Rumors takes a closer look at players who will be free agents or could become free agents next offseason. We examine if their stock is rising or falling due to performance and other factors. This week, we take a look at players from the Atlantic Division: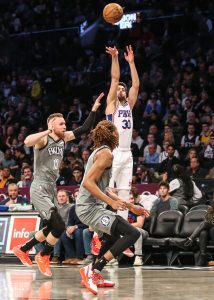 Furkan Korkmaz, Sixers, 22, SG (Up) – Signed to a two-year, $3.34MM deal in 2019
This was the player the Sixers envisioned when they made Korkmaz a draft-and-stash pick in 2016. Korkmaz has become a steady presence in Philadelphia's rotation and is averaging 8.9 PPG while shooting 39.5% from deep. He's made a significant impact in the last five games, averaging 16.6 PPG while lifting the Sixers to four victories. With Josh Richardson out a few weeks with a hamstring injury, Korkmaz figures to get even more playing time in the near future. Korkmaz's $1.76MM contract for next season isn't guaranteed but it's a foregone conclusion Philadelphia will retain him.
Joe Harris, Nets, 28, SF (Down) – Signed to a two-year, $16MM deal in 2018
Overall, Harris' numbers are virtually identical to last season's output, other than a dropoff from an outstanding 47.4% success rate on 3-point tries to a still very solid 40.8%. However, like his team, Harris has been in a slump. He's scored 13 or fewer points in his last seven games and made seven more turnovers than 3-pointers during that stretch. Harris is too established to stay in this funk for very long. He will still receive offers well above his current salary of $7.67MM but stretches like this might temper some of the enthusiasm for his services when he heads into unrestricted free agency this summer.
Wayne Ellington, Knicks, 32, SG (Down) – Signed to a two-year, $16MM deal in 2019
Ellington had a couple of good years in Miami and gave Detroit a lift during the second half of last season but he's been a non-factor with the Knicks. Ellington has only appeared in 23 games, averaging 4.0 PPG in 14.3 MPG while making just 30.9% of his 3-point attempts. If the veteran guard isn't knocking down his threes, there's no reason to play him — he hasn't seen any court time since January 14. Only $1MM of Ellington's $8MM contract for next season is guaranteed. It's safe to say he will not have to other $7MM forwarded to his bank account. In fact, he may struggle to find anything more than the veteran's minimum on the market this summer.
Fred VanVleet, Raptors, 25, SG (Up) – Signed to a two-year, $18MM deal in 2018
The arrow continues to point upward for the fourth-year guard, whose production has steadily climbed as his playing time has expanded. VanVleet has missed some games this season due to injuries, most recently a hamstring strain. In the 34 games he's started, he's averaging 18.5 PPG, 6.8 APG and 2.0 SPG while shooting 40.2% on 3-point attempts. In the first three games since returning to action, VanVleet averaged 23.7 PPG and made 14 of 19 3-point attempts. He could be looking at offers in the $20-25MM per year range as an unrestricted free agent.
Enes Kanter, Celtics, 27, C (Up) – Signed to a two-year, $9.77MM deal in 2019
Kanter was the third overall pick in the draft back in 2011, so it's easy to overlook the fact he's still just 27 years old. Kanter has always been a double-double machine when given extended minutes. He's averaging 18.5 MPG, his lowest amount of court time since the 2012/13 season with Utah. Yet he's posted six doubles-doubles since New Year's Eve, including a game-changing 18-point, 11-rebound outing against the Lakers this week. Kanter holds a $5MM player option on his contract for next season. He might test the market again and see if he can get a better deal.
Photo courtesy of USA Today Sports Images.