Every week, Hoops Rumors takes a closer look at players who will be free agents or could become free agents next offseason. We examine if their stock is rising or falling due to performance and other factors. This week, we take a look at players from the Southwest Division: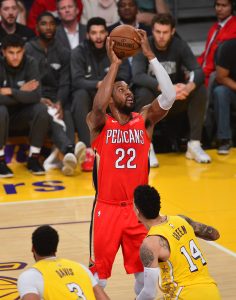 Derrick Favors, Pelicans, 28, PF/C (Up) – Signed to a two-year, $37.6MM deal in 2018
A power forward by trade, Favors has emerged as the Pelicans' starting center. Over a nine-game span prior to Friday's action, Favors posted six double-doubles while averaging 11.2 PPG and 14.4 RPG. With an expiring $17.65MM contract, Favors is a candidate to be dealt before February's deadline. Favors left Friday's game with a hamstring injury but as long as it's not serious, he could be an intriguing rental. Several teams were already monitoring Favors prior to his recent productive run. Jaxson Hayes is the future center for the Pelicans and Favors doesn't stretch defenses but his steady contributions will draw some attention in a weak free agent market.
Isaiah Hartenstein, Rockets, 21, PF/C (Up) – Signed to a three-year, $3.92MM deal in 2018
Hartenstein doesn't get many opportunities but he puts up strong numbers when the Rockets are shorthanded in the frontcourt. In a three-game stretch in late December, Hartenstein averaged 14.7 PPG on 73% percent shooting and 11.3 RPG. In six G League outings this season, he has posted 21.3 PPG, 14.5 RPG and 4.7 APG in 33.3 MPG. The Rockets have a June 29 deadline to guarantee Hartenstein's $1.66MM salary. It's hard to see the Rockets letting the 21-year-old 7-footer walk away at that price.
Josh Jackson, Grizzlies, 22, SF (Down) – Signed to a three-year, $18.2MM deal in 2017
Following two troubled seasons with the Suns, Jackson was dealt to the Grizzlies during the offseason. Memphis decided to have Jackson work on improving his game and reputation at the G League level. The fourth overall pick of the 2017 draft has toiled there during the first three months of the season. Jackson was suspended two games for violating team rules last month, then went into an offensive funk until a 35-point outburst against the Iowa Wolves Monday. There's no indication the Grizzlies have any interest in re-signing the unrestricted free agent this summer.
Ryan Broekhoff, Mavericks, 29, SG (Down) – Signed to a two-year, $2.25MM deal in 2018
Broekhoff suffered a fractured left fibula late last month and is out indefinitely. Tough break — literally — for the Australian swingman, who wasn't playing much anyway. He has appeared in 10 games this season, averaging 3.7 PPG in 7.7 MPG, after playing 42 games with Dallas last season in his first NBA campaign. Dallas would have to extend a $1.9MM qualifying offer to him in June to make him a restricted free agent. It seems likely that Broekhoff will return overseas next season to resume his career.
Jakob Poeltl, Spurs, 24, C (Down) – Signed to a four-year, $12.2MM deal in 2016
The Raptors' 2016 lottery pick hasn't really developed with a change of scenery over the past two seasons. Though Poeltl has made modest increases in his rebounding, assist and shot-blocking averages this season, his playing time remains limited to 15-20 minutes per game. The 7-footer doesn't provide much offensively and has yet to develop a 3-point shot. He's also a poor free throw shooter. San Antonio would have to extend a $5.1MM qualifying offer to make him a restricted free agent. That's a reasonable price for a second-unit player but San Antonio may let him walk and seek an upgrade.
Photo courtesy of USA Today Sports Images.