Pelicans rookie Zion Williamson is expected to make his NBA regular season debut on January 22 against the Spurs, head of basketball operations David Griffin said today (Twitter link via Scott Kushner of The Advocate).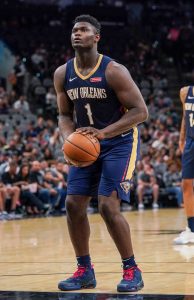 Griffin explained today to reporters that the Pelicans want Williamson to participate in two more practices on Friday and Sunday before giving him the go-ahead, as Andrew Lopez of ESPN tweets. There was an expectation that Zion's first game could happen earlier, but the team is being extra cautious and Griffin admitted that getting in practices has been an issue due to the schedule (Twitter link via Lopez).
The No. 1 overall pick in the 2019 draft, Williamson was one of the NBA's most-hyped prospects in years, and looked dominant in the preseason when he averaged 23.3 PPG on 71.4% shooting in four games (27.2 MPG).
However, a knee injury forced the former Duke star to undergo meniscus surgery on the eve of the regular season opener. At the time, the Pelicans estimated that he'd be sidelined for six-to-eight weeks, but the team's careful approach with its future franchise player resulted in what will ultimately be a 13-week absence.
Still, having Williamson sit out all season was never under consideration, Griffin said today (Twitter link via Will Guillory of The Athletic). The Pelicans' executive also said the 19-year-old is radically improved physical version of himself.
While there was a belief that Williamson would face a minutes restriction upon his return, New Orleans has no "hard number" in mind, according to Griffin (Twitter link via Kushner). The rookie's playing time will be determined by how he looks on the court. Griffin did admit that Williamson may not play in back-to-backs, but the club's next back-to-back won't happen until March (Twitter link via Guillory).
The Pelicans endured a disappointing first half and currently rank 14th in the Western Conference with a 15-26 record. However, they're only four games behind the eighth-seeded Grizzlies, so if Williamson's return can help fuel a second-half run, a push for a playoff spot isn't outside the realm of possibility.
Photo courtesy of USA Today Sports Images.