Mavericks big man Dwight Powell has suffered a ruptured right Achilles tendon, the team announced in a press release. When Powell left Tuesday's game with an Achilles injury, there was a fear that it would be a season-ending tear, and tests today confirmed as much.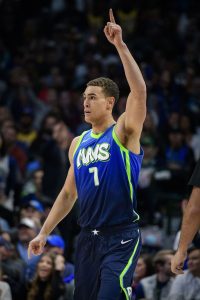 According to the Mavs, Powell is currently weighing surgical options and updates will be provided as appropriate. It's safe to say the 28-year-old will miss the rest of this season, and there's no guarantee he'll be ready to go for the start of the 2020/21 campaign, since recovery from an Achilles tear can take upwards of a full calendar year.
It's a tough blow for the Mavericks, who were leaning heavily on Powell as their starting center alongside power forward Kristaps Porzingis. The former second-round pick has averaged 9.4 PPG and 5.7 RPG with a .638 FG% and solid interior defense in 40 games (37 starts) for Dallas this season. His 26.5 minutes per contest represented a career high.
The Mavs have some assets that could be used in a trade to acquire another center if they want to find a short-term fix. Those assets include a pair of 2020 second-round picks – including the Warriors' second-rounder – as well as Courtney Lee's expiring contract and a trade exception worth nearly $12MM.
Dallas won't be able to apply for a disabled player exception for extra cap flexibility. The deadline to request a DPE was January 15.
For now, the Mavs will likely rely on Porzingis, Maxi Kleber, and Boban Marjanovic to take on increased roles in their frontcourt, with forwards like Dorian Finney-Smith and Justin Jackson perhaps spending more time at the four.
Photo courtesy of USA Today Sports Images.