1:32pm: The trade is official, according to press releases issued by the Hawks and Timberwolves.
11:07am: The Hawks and Timberwolves have finalized a trade agreement, according to ESPN's Adrian Wojnarowski, who reports (via Twitter) that Atlanta will receive point guard Jeff Teague and swingman Treveon Graham in exchange for wing Allen Crabbe.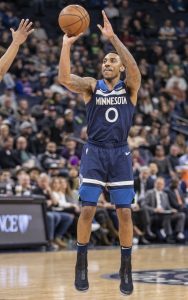 Teague, who began his career in Atlanta and spent seven seasons with the Hawks, including his lone All-Star campaign in 2014/15, will help fortify the team's backcourt and serve as a veteran mentor for rising star Trae Young. He'll also give the club a reliable floor general when Young sits. As ESPN's Royce Young notes (via Twitter), Atlanta's offensive rating this season has plummeted from 108.2 to 90.7 when Young is on the bench.
In 34 games (27.8 MPG) for Minnesota, Teague has averaged 13.2 PPG and 6.1 APG with a .448/.379/.868 shooting line. While those are solid numbers, he wasn't viewed by the Timberwolves' new management group as a part of the team's future plans and had lost his starting job to Shabazz Napier.
Crabbe has struggled in a modest role for the Hawks this season, but has been a reliable three-point shooter throughout his seven-year career. He had knocked down 39.3% of his career outside attempts before making just 32.3% in 2019/20. If he can bounce back in Minnesota – at least to some extent – he'll help provide the sort of floor spacing that wings like Andrew Wiggins and Jarrett Culver haven't.
Teague ($19MM) and Crabbe ($18.5MM) are on similar expiring contracts, so swapping the two veterans won't impact Minnesota's or Atlanta's books beyond this season. Graham, who has a $1.65MM minimum-salary contract, will also be a free agent at season's end. His inclusion helps the Timberwolves save some money while opening up a roster spot for a possible forthcoming move.
According to Kevin O'Connor of The Ringer (via Twitter), Minnesota has been talking to teams around the NBA as they search for another ball-handler, so president of basketball operations Gersson Rosas likely isn't done dealing. O'Connor reports that the Timberwolves recently pursued Pacers point guard Aaron Holiday, but didn't get anywhere in those discussions.
The Wolves will create a pair of modest traded player exceptions in this swap. One will be worth Graham's salary ($1.65MM) while the second will be worth the difference in Teague's and Crabbe's cap hits ($500K).
The Hawks, meanwhile, had an open roster spot and are under the salary cap, so acquiring Graham in addition to Teague won't require any additional moves or cap gymnastics for them.
Atlanta still has big expiring contracts belonging to Chandler Parsons ($25.1MM) and Evan Turner ($18.6MM) if general manager Travis Schlenk wants to make another deal. It's also worth noting that both Teague and Graham could theoretically be aggregated in a second trade before the deadline since the Hawks are taking them on using cap room.
Photo courtesy of USA Today Sports Images.