Veteran NBA guard Jeff Teague, who appeared in 543 games with the Hawks as a player, has rejoined the franchise is a new role, according to KL Chouinard of Hawks.com, who says Teague is now a scout for the team.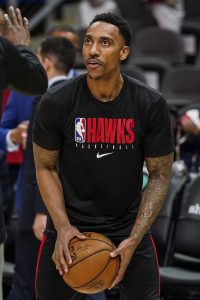 "I've been all around the world watching basketball," Teague said. "so I've got a pretty good eye for who I think can play at a certain level."
Teague, 33, signed with the Bucks late in the 2020/21 season and was on the roster for the club's championship run, appearing in 21 regular season games and another 16 playoff contests. However, he became a free agent in the offseason and hasn't signed a new contract since then. As Teague explains, he was dealing with an injury at the end of last season that may have required surgery and decided he didn't want to go under the knife to try to play in '21/22.
Although Teague tells Chouinard that he hasn't officially retired as a player, his new role with the Hawks suggests he's preparing to move onto the next phase of his career. The point guard says he first broached the idea of joining the Hawks' basketball operations department during his second stint in Atlanta during the 2019/20 season.
"When I was there for my second tenure with the Hawks, I told (head of basketball operations) Travis (Schlenk) that I wanted to look into working in the front office," Teague said. "(I asked if) once I got done playing if he would be open to trying to help me out. And he told me when I first got there that first day that when I was done playing, if he was still there that he would look out for me. So I just reached out and he kept his word."
Teague's role with the Hawks involves scouting NCAA prospects in advance of the draft, according to Chouinard. That allows him to stay relatively close to home while working his new job.
"I go everywhere. I go to Kentucky. I go to Louisville. All over the Midwest really," Teague said. "Being based out of Indianapolis, there are a lot of colleges in the surrounding areas in a two-hour window that you can get to to see a lot of college games from different conferences. It's a good location for scouting."
If Teague doesn't return to the NBA, he'll finish with 826 total regular season appearances and another 87 postseason games on his résumé. He averaged 12.2 points and 5.6 assists per game with a .444/.360/.844 shooting line across 12 seasons for the Hawks, Pacers, Timberwolves, Celtics, and Bucks, earning an All-Star berth with Atlanta in 2015.