11:54am: The move is official, the Wizards announced in a press release.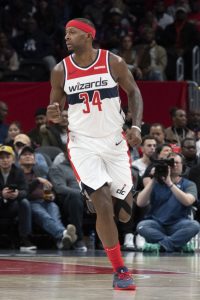 "We appreciate CJ's contributions to our team this season and wish him and his family the best as he continues his career," general manager Tommy Sheppard said. "He is a consummate professional who provided a great example for our younger players despite having his season cut short by an unfortunate injury."
The team also confirmed that Pasecniks has been signed to a multi-year contract and Williams received a two-way deal.
8:12am: The Wizards will waive injured swingman C.J. Miles, tweets Candace Buckner of The Washington Post. His roster spot will be used to convert Anzejs Pasecniks' two-way contract to a standard deal, and Johnathan Williams will be re-signed to fill the two-way slot.
Miles, who is making $8.73MM in the final year of his contract, was acquired from the Grizzlies in a trade last summer. He played just 10 games for Washington before suffering a wrist injury in November that will sideline him for the rest of the season.
The 32-year-old has been a positive presence in the locker room, Buckner adds, but the Wizards have been dealing with a string of injuries and need more healthy players (Twitter link).
The team will keep the $4.4MM Disabled Player Exception it received in the wake of Miles' injury, tweets Bobby Marks of ESPN. The DPE is not affected by the decision to part with Miles.
Pasecniks, a rookie center, has played 13 games for the Wizards, averaging 8.2 points and 6.2 rebounds in about 22 minutes per night. Washington waived him before training camp, then signed him to the two-way deal in December. Buckner reported last week that the team hoped to promote him to the 15-man roster.
Williams recently had a brief stint with the Wizards as a hardship player, and impressed team officials enough that they wanted to give him another chance. He averaged 5.5 PPG and 6.3 RPG in six games, starting five of them, but was waived last week when the hardship exception expired. He'll rejoin the roster in advance of the January 15 deadline for two-way signings.
Photo courtesy of USA Today Sports Images.