The Cleveland Cavaliers and coach John Beilein are officially parting ways, Adrian Wojnarowski of ESPN.com reports. J.B. Bickerstaff will be promoted to the head coaching role and won't receive an "interim" tag.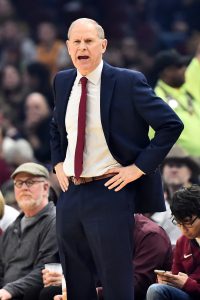 Beilein began talking to general manager Koby Altman about the possibility of stepping down from his position before the All-Star break began, sources tell Wojnarowski. He'll have an opportunity to say goodbye to players and staff on Wednesday once the team returns from its All-Star break. He'll end his brief tenure in Cleveland with a record of 14-40.
We heard earlier today that Beilein was expected to walk away from the remainder of his four-year contract, which he signed this past summer. The pact, which featured a fifth-year team option, would have paid him approximately $4-5M per season. Wojnarowski suggests the two sides reached a settlement that will pay Beilein some of the money remaining on his 2019/20 salary.
A longtime college coach, Beilein joined the Cavaliers after a successful run at the University of Michigan, but never fully adjusted to or got comfortable in the NBA, according to a report earlier this week. His son Patrick Beilein's resignation from his head coaching job at Niagara in October reportedly took a toll on the Cavs' coach. The younger Beilein stepped down for personal reasons before coaching his first game at Niagara.
On- and off-court issues for the Cavaliers piled up during Beilein's first year. A report in December suggested that his coaching style was alienating some players. About a month later, the 67-year-old was at the center of a mini-controversy when he reportedly told his players they were no longer playing "like a bunch of thugs." Beilein, who said he had intended to say "slugs," apologized to the team.
On top of all that, the Cavaliers have struggled this season to balance developing their young prospects with keeping their veteran players happy. Kevin Love has publicly expressed his frustration with the situation in Cleveland multiple times this season, and both Love and Tristan Thompson reportedly wanted to be moved before the trade deadline.
Although management and ownership was committed to seeing things through with Beilein, the veteran coach was described as being unhappy in Cleveland, according to Wojnarowski. There had been rumblings for several days suggesting that his time as Cavs head coach would end sooner rather than later.
As for Bickerstaff, he's in his first season as an associate head coach in Cleveland. He led the Grizzlies for two seasons previously, taking over for David Fizdale as an interim head coach during the 2017/18 season before becoming the club's official leader in 2018/19.
In addition to his head coaching experience in Memphis, Bickerstaff spent five seasons on Houston's bench and served as an interim head coach briefly for the Rockets after Kevin McHale was let go. He began his coaching career at the age of 24 as an assistant under his father, Bernie Bickerstaff, on the expansion Bobcats.
Wojnarowski writes that Bickerstaff was hired as part of an eventual succession plan for Beilein, so barring another unexpected turn of events, it sounds like he'll hold the head coaching job beyond this season.
Luke Adams contributed to this post. Photo courtesy of USA Today Sports Images.