Forward DeMarre Carroll has reached a buyout with the Spurs, Adrian Wojnarowski of ESPN tweets. He intends to sign with the Rockets once he clears waivers, Shams Charania of The Athletic tweets.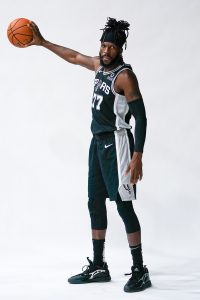 The news is not surprising, considering that Carroll had racked up 15 straight DNP-CDs and publicly expressed frustration with his lack of playing time. However, it's still unusual for a team to agree to buy out a player with multiple years left on his contract.
Carroll agreed to a three-year, $21MM contract with the Spurs in a sign-and-trade from Brooklyn last summer.
Carroll is owed $2.3MM for the remainder of the season, $6.65MM next season and $1.35MM in guaranteed money for 2021/22, Bobby Marks of ESPN tweets. Even with the buyout, San Antonio will incur a cap hit through the life of the contract.
The 33-year-old did not join the Spurs when they began their eight-game rodeo trip on February 2, as the club looked into moving him by the February 6 trade deadline.
Carroll holds career averages of 9.0 PPG and 4.3 RPG, while shooting 35.9% from deep. With the Spurs, he averaged just 9.0 MPG and appeared in only 15 games. Carroll appeared in 67 games with the Nets last season and averaged 11.1 PPG and 5.2 RPG in 25.4 MPG.
Carroll's agent, Mark Bartelstein, negotiated the buyout.
Carroll could play both forward positions in Houston's small ball lineup. The Rockets have two open roster spots and need to add at least one player, so Carroll could fulfill that obligation.
Photo courtesy of USA Today Sports Images.