Commissioner Adam Silver announced that the NBA will rename its All-Star Game MVP Award in honor of Kobe Bryant, tweets K.C. Johnson of NBC Sports Chicago.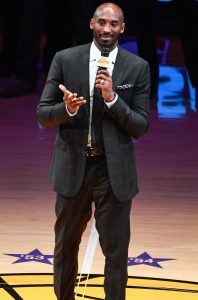 "Kobe Bryant is synonymous with NBA All-Star and embodies the spirit of this global celebration of our game," Silver said. "He always relished the opportunity to compete with the best of the best and perform at the highest level for millions of fans around the world."
Bryant was an 18-time All-Star selection and played in 15 of the games. He was named All-Star MVP four times, a record he shares with Bob Pettit (Twitter link from Ben Golliver of The Washington Post).
The league is still in shock over the death of Bryant, who was killed in a helicopter crash on January 26, along with his 13-year-old daughter Gianna and seven other people.
Silver explained that the NBA decided not to cancel its games on that day because fans were already at several arenas and the league wasn't able to confirm Bryant's death in time to call off the games. He adds that the decision to play was made after discussion with the Players Association (Twitter link via Eric Walden of The Salt Lake Tribune).
Silver addressed a few other topics in his annual All-Star Weekend press conference:
He expects a "return to normalcy" soon in the league's relationship with China, but can't predict when that will happen, tweets Mark Medina of USA Today. Silver adds that NBA games still aren't being shown on CCTV and said that decision is "outside of our control." The league won't press China to begin showing them again (Twitter link). Silver added that the loss of business from China is only partially tied to the league's revenue decline and expressed hope that the nation might host pre-Olympic games this summer or NBA preseason games in the fall (Twitter link from Jonathan Feigen of The Houston Chronicle). Silver expects the loss of revenue from China to be "substantial," estimating it will be "less than $400MM." (Twitter link) "We accept the consequences of our system and our values," he added (Twitter link).
Silver is still optimistic that the NBA's Board of Governors will eventually approve a mid-season tournament, but nothing is currently imminent (Twitter link). He said discussions are being held with players and media partners about that tournament and a play-in tourney for the final playoff spots in each conference (Twitter link).
The commissioner also discussed a Comcast/Altitude dispute that is preventing many Nuggets games from being shown in Denver. Silver said owners are examining the best methods for distributing their games (Twitter link).