FEBRUARY 6: The trade is now official, according to press releases from the Warriors and Sixers. Philadelphia waived Trey Burke in a corresponding move, as we noted earlier. The team created the other roster opening by sending James Ennis to Orlando.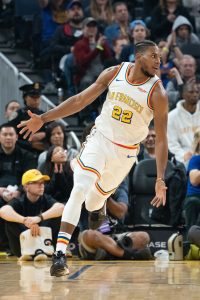 FEBRUARY 5: The Warriors and Sixers have agreed to a trade that will send Alec Burks and Glenn Robinson III to Philadelphia, reports Shams Charania of The Athletic (Twitter link).
According to Charania (Twitter link), the 76ers will send Golden State a trio of second-round picks in the deal. Those three picks are Dallas' 2020 second-rounder, Denver's 2021 second-rounder, and Toronto's 2022 second-rounder, per ESPN's Adrian Wojnarowski (Twitter link).
The 76ers have a full 15-man roster, so they'll have to move a pair of players to accommodate the new additions. They're working on possible trades to clear those roster spots, but will waive two players at the deadline if necessary, tweets Wojnarowski.
No salary-matching is required in the deal, since both Burks and Robinson are on one-year, minimum-salary contracts and can be taken on using the minimum salary exception.
Sixers general manager Elton Brand had been on the lookout for players who could provide the team with reliable depth and outside shooting, and Burks and Robinson should fit nicely. Both wings have played increased roles for the injury-plagued Warriors this season, with Burks averaging a career-best 16.1 PPG with 3.1 APG and a .375 3PT% in 48 games (29.0 MPG), while Robinson has put up a career-high 12.9 PPG and 4.7 RPG on .481/.400/.851 shooting in 48 games (31.6 MPG).
Philadelphia didn't have expendable players on mid-level-type salaries to make a run at higher-priced trade candidates, so the team made use of its cache of second-round selections to acquire a pair of low-cost veterans. Even after surrendering three future picks in this deal, the Sixers still control a handful of valuable second-round selections, including the Hawks' and Knicks' 2020 second-rounders.
As for the Warriors, they've rebuilt their own collection of future draft picks in recent weeks, having now acquired a total of four second-rounders for role players Burks, Robinson, and Willie Cauley-Stein. The moves have also helped Golden State inch closer to the tax line for the 2019/20 season.
As Jeff Siegel of Early Bird Rights details (Twitter link), the Dubs are still slightly over the luxury tax threshold, and will move further into tax territory once they sign replacement players. But they're at the point where they've greatly reduced their projected end-of-season bill and could even sneak out of the tax if they move another player or two on Thursday.
The Warriors will have just 11 players under contract once this trade goes through. The team will have to sign at least one player by Saturday, according to Anthony Slater of The Athletic (Twitter link), who suggests Marquese Chriss is a strong candidate to be promoted to the 15-man roster. Golden State will subsequently have to add two more players to get to the NBA-mandated minimum of 14 later this month.
Photo courtesy of USA Today Sports Images.