Hoops Rumors is looking ahead at the 2020/21 salary cap situations for all 30 NBA teams. Due to the impact of the coronavirus pandemic on the NBA, it's impossible to know yet where the cap for 2020/21 will land. Given the league's lost revenue, we're assuming for now that it will stay the same as the '19/20 cap, but it's entirely possible it will end up higher or lower than that.

While the Mavericks were expected to take a step forward in 2019/20, few expected the team to come out of the gates by winning 16 of its first 22 games, with Luka Doncic playing like a legit MVP candidate. Dallas slowed down from there, but still entered the NBA's hiatus comfortably holding a playoff spot in the West, at 40-27.
Having installed Doncic and Kristaps Porzingis as the two cornerstones of the franchise, the Mavs will be looking for ways to continue finding help for those young stars, whether that means adding more complementary role players or trying to find a way to land a third impact player.
Here's where things stand for the Mavericks financially in 2020/21, as we continue our Salary Cap Preview series:
Guaranteed Salary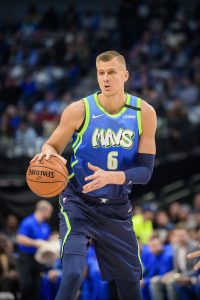 Kristaps Porzingis ($29,467,800)
Dwight Powell ($11,080,125)
Delon Wright ($9,000,000)
Maxi Kleber ($8,250,000)
Luka Doncic ($8,049,360)
Seth Curry ($7,834,449)
Justin Jackson ($5,029,650)
Dorian Finney-Smith ($4,000,000)
Boban Marjanovic ($3,500,000)
Jalen Brunson ($1,663,861)
Total: $87,875,245

Player Options
Team Options
Non-Guaranteed Salary
Restricted Free Agents
Unrestricted Free Agents / Other Cap Holds
Courtney Lee ($19,139,505): Bird rights
Dirk Nowitzki ($9,500,000): Bird rights 1
No. 18 overall pick ($2,816,760)
J.J. Barea ($1,620,564): Bird rights
Michael Kidd-Gilchrist ($1,620,564): Non-Bird rights
Devin Harris ($1,620,564): Non-Bird rights 1
Salah Mejri ($1,620,564): Bird rights 1
Total: $37,938,521
Offseason Cap Outlook

Hardaway had a strong season in 2019/20, but is unlikely to be offered a starting salary of $19MM if he opts out, so he's a good bet to pick up his player option. Assuming he does, the Mavericks will enter the offseason without any cap room available.
Still, regardless of where the cap ultimately ends up, Dallas should have its full mid-level exception available to use in free agency. The club won't have its bi-annual exception this time around, since it was used during the summer of 2019.
Cap Exceptions Available
Mid-level exception: $9,258,000 2
Footnotes
The cap holds for Nowitzki, Harris, and Mejri remain on the Mavericks' books because they haven't been renounced after going unsigned in 2019/20. They can't be used in a sign-and-trade deal.
This is a projected value.
Note: Minimum-salary and rookie-scale cap holds are based on the salary cap and could increase or decrease depending on where the cap lands.
Salary information from Basketball Insiders and Early Bird Rights was used in the creation of this post. Photo courtesy of USA Today Sports Images.