Hoops Rumors is looking ahead at the 2020/21 salary cap situations for all 30 NBA teams. Due to the impact of the coronavirus pandemic on the NBA, it's impossible to know yet where the cap for 2020/21 will land. Given the league's lost revenue, we're assuming for now that it will stay the same as the '19/20 cap, but it's entirely possible it will end up higher or lower than that.

After going all-in during the 2020 offseason, giving up a boatload of draft picks – and rising star Shai Gilgeous-Alexander – in order to land Kawhi Leonard and Paul George, the Clippers were one of the NBA's best teams in 2019/20. Despite only firing on all cylinders a handful of times throughout the season due to some injury and chemistry issues, the club entered the league's hiatus with a 44-20 record, good for second in the West.
The Clippers will be one of the teams hit hardest if the NBA can't resume its 2019/20 season and play out its postseason. After all, Leonard and George will be entering contract years in '20/21, so it's unclear how long the team's window will be open. As for the 2020 offseason, the Clips have some big free agent decisions to make and may have to go into tax territory if they want to retain Montrezl Harrell, Marcus Morris, and JaMychal Green.
Here's where things stand for the Clippers financially in 2020/21, as we continue our Salary Cap Preview series:
Guaranteed Salary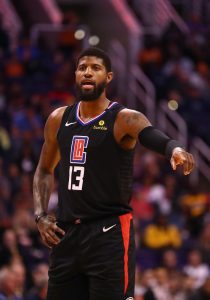 Paul George ($35,450,412)
Kawhi Leonard ($34,379,100)
Patrick Beverley ($13,333,333)
Lou Williams ($8,000,000)
Ivica Zubac ($7,000,000)
Rodney McGruder ($5,192,307)
Landry Shamet ($2,090,040)
Mfiondu Kabengele ($2,075,880)
Terance Mann ($1,517,981)
Total: $109,039,053

Player Options
Team Options
Non-Guaranteed Salary
Restricted Free Agents
Unrestricted Free Agents / Other Cap Holds
Marcus Morris ($18,000,000): Non-Bird rights
Montrezl Harrell ($11,400,000): Bird rights
Reggie Jackson ($1,620,564): Non-Bird rights
Patrick Patterson ($1,620,564): Non-Bird rights
Total: $32,641,128
Offseason Cap Outlook

With $109MM+ in guaranteed money committed to nine players for 2020/21, the Clippers aren't in bad shape — even if the cap doesn't increase, that would give them plenty of wiggle room below the tax line to fill out the final five or six spots on their roster.
However, if they intend to bring back all their key free-agents-to-be, they may need all that wiggle room and then some. Harrell is due a significant raise on his current $6MM salary; Morris will likely be in line for another eight-figure salary; and Green will add another $5MM+ to the books if he simply exercises his player option. Team salary would increase further if the club wants to make use of its mid-level exception to bring in more talent.
For now, we're assuming the Clippers will do all they can to retain their rotation players, which will likely mean entering tax territory. But the team could gain more cap flexibility if one or two of those key free agents don't return.
Cap Exceptions Available
Taxpayer mid-level exception: $5,718,000 1
Trade exception: $3,567,720 (expires 2/8/21)
Trade exception: $1,445,697 (expires 2/8/21)
Footnotes
This is a projected value. If the team doesn't approach the tax apron, it could have the full mid-level exception ($9,258,000) and bi-annual exception ($3,623,000) available.
Note: Minimum-salary and rookie-scale cap holds are based on the salary cap and could increase or decrease depending on where the cap lands.
Salary information from Basketball Insiders and Early Bird Rights was used in the creation of this post. Photo courtesy of USA Today Sports Images.