The world of sports is filled with dual-sport athletes who likely would have excelled if they had chosen another path. Mekhi Becton, who was selected by the New York Jets in this year's NFL draft, was an explosive high school basketball athlete in Highland Springs, Virginia, before deciding to attend Louisville and focus on football full-time.
[Did you know that we are a dual-sport threat? Be sure to check out Pro Football Rumors for the latest news and rumors on the NFL Draft and offseason.]
One of the most famous examples of a player dominating in two sports and picking one over the other before college is another Virginia native, Allen Iverson.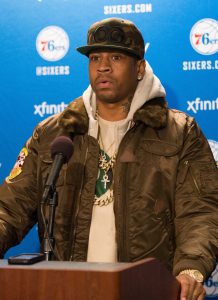 Before going on to become a Hall of Fame player in the NBA, Iverson was in position to have a great football career. The Sixers great earned the State of Virginia's High School Football Player of the Year and Basketball Player of the Year in the same season, as Tim Casey of VICE Sports details.
Iverson would have college recruiters, including Florida State's staff, show up to his games. FSU believed Iverson could play quarterback for its football team while also playing point guard for the basketball team, similar to how Charlie Ward played both sports (Ward won a Heisman trophy in 1993 before playing 11 years in the NBA).
"We were on him hard," former Florida State assistant head coach Chuck Amato previously told Casey  "He was just a great athlete and a competitor. He would've been the first Michael Vick."
Vick, another Virginia athlete, was arguably the most electric playmaker ever to play college football. Iverson ultimately played basketball at Georgetown, but he missed the gridiron. While in the program, he approached coach John Thompson about playing for Georgetown's football team and had his request denied.
"He said, 'I'll tell you what I think about you playing football. If you don't get your skinny black [explicit] the eff out of my face…you better,'" Iverson told SLAM back in 2012. "Just like that. I never thought about playing football again after that. I mean, he made it clear that this is not why I was here."
Iverson's former football coach believes the now 44-year-old would have had a career similar to Deion Sanders. Iverson certainly thrived in the craft he pursued — he was the No. 1 pick in 1996 by the Sixers and he made 11 All-Star games in his career. Still, you wonder, what if…
"Football is always going to be my No. 1 sport," Iverson said back in 2016. "It was my first love. Obviously if things went another way, I probably would have ended up playing football instead of basketball, but God got his way of doing things."
In honor of this week's NFL draft, here are a few others who showed off a combination of basketball and football talent:
Longtime NBA guard and three-time Slam Dunk champion Nate Robinson, who appeared in more than 600 regular season games for eight NBA teams, initially enrolled at the University of Washington on a football scholarship before concentrating on basketball beginning in his sophomore year. At the end of his 11-year NBA career in 2016, the former Huskies defensive back tried out for the NFL's Seattle Seahawks.
Antonio Gates, one of the NFL's all-time best tight ends, put up impressive numbers as a basketball player at Kent State, averaging 20.6 PPG, 7.7 RPG, and 4.1 APG in 2002/03 on his way to All-MAC First Team honors. While Gates' 955 career receptions and 116 total touchdowns in the NFL suggest he made the right choice, he has admitted to wondering how he might have performed in the NBA.
Before he was an NBA team president or head coach, Pat Riley was a two-sport athlete, having been drafted in 1967 by the San Diego Rockets in the NBA and as a wide receiver by the Dallas Cowboys in the NFL. The Cowboys selected Riley and recruited him despite the fact that he hadn't played football since high school. Although Riley says he considered playing in the NFL, he ultimately opted for the more viable basketball path and has now spent more than five decades in in the NBA as a player, broadcaster, coach, and executive.
Photo courtesy of USA Today Sports Images.