Hoops Rumors is looking ahead at the 2020/21 salary cap situations for all 30 NBA teams. Due to the impact of the coronavirus pandemic on the NBA, it's impossible to know yet where the cap for 2020/21 will land. Given the league's lost revenue, we're assuming for now that it will stay the same as the '19/20 cap, but it's entirely possible it will end up higher or lower than that.

No team gave the 2019 champion Raptors a more competitive series than the Sixers, who were inches away from forcing overtime in Game 7 in Toronto last spring. That knowledge helped fuel lofty expectations in Philadelphia entering the 2019/20 season, with the 76ers widely considered part of the conference's two-team top tier alongside Milwaukee.
An up-and-down season saw the Sixers fall short of those expectations — they were 39-26 and ranked just sixth in the East entering the NBA's hiatus. However, there was still hope that they could make noise in the playoffs, and it'll be fascinating to see if they get that chance. After all, decisions on Brett Brown's future and potential roster changes may hinge in large part on whether or not the club can make a deep postseason run.
Here's where things stand for the Sixers financially in 2020/21, as we continue our Salary Cap Preview series:
Guaranteed Salary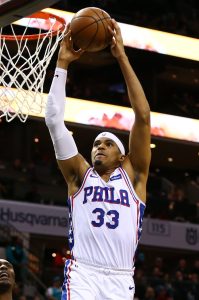 Tobias Harris ($34,358,850)
Joel Embiid ($29,542,010)
Al Horford ($27,500,000)
Ben Simmons ($27,285,000) 1
Josh Richardson ($10,865,952)
Mike Scott ($5,005,350)
Zhaire Smith ($3,204,600)
Matisse Thybulle ($2,711,280)
Shake Milton ($1,701,593)
Total: $142,174,635

Player Options
Team Options
Non-Guaranteed Salary
Restricted Free Agents
Unrestricted Free Agents / Other Cap Holds
No. 21 overall pick ($2,478,840)
Alec Burks ($1,620,564): Non-Bird rights
Raul Neto ($1,620,564): Non-Bird rights
Kyle O'Quinn ($1,620,564): Non-Bird rights
Glenn Robinson III ($1,620,564): Non-Bird rights
Total: $8,961,096
Offseason Cap Outlook

No matter where the cap lands for the 2020/21 season, the Sixers will have a tough time avoiding the luxury tax. A flat cap – with no increase – would result in a tax threshold of $132.6MM; the NBA's $115MM cap projection called for a $139MM tax line. The 76ers already have more than $142MM in guaranteed money committed for nine players next season, and that number will only increase once the team fills out its roster.
Reducing team salary via a trade is a possibility, but there might not be many clubs looking to take on unwanted contracts this offseason. Philadelphia would have to trim a substantial amount of salary to gain access to the full mid-level exception and bi-annual exception.
Cap Exceptions Available
Taxpayer mid-level exception: $5,718,000 4
Trade exception: $1,882,867 (expires 2/8/21)
Footnotes
This is a projected value. Simmons' actual maximum salary will be 25% of the cap, unless he makes an All-NBA team, in which case it will be anywhere from 28-30% of the cap.
Korkmaz' new salary guarantee date is unknown.
Pelle's salary becomes fully guaranteed after October 22.
This is a projected value.
Note: Minimum-salary and rookie-scale cap holds are based on the salary cap and could increase or decrease depending on where the cap lands.
Salary information from Basketball Insiders and Early Bird Rights was used in the creation of this post. Photo courtesy of USA Today Sports Images.