Hoops Rumors is looking ahead at the 2020/21 salary cap situations for all 30 NBA teams. Due to the impact of the coronavirus pandemic on the NBA, it's impossible to know yet where the cap for 2020/21 will land. Given the league's lost revenue, we're assuming for now that it will stay the same as the '19/20 cap, but it's entirely possible it will end up higher or lower than that.

After arguably overachieving in 2018/29 by winning 53 games and earning a trip to the Western Conference Finals, the Trail Blazers came back to earth in 2019/20. Plagued by some bad injury luck that resulted in Jusuf Nurkic, Rodney Hood, and Zach Collins missing nearly the entire season, Portland was just 29-37 when the NBA went on hiatus.
Fortunately, the team will finally be out from under its ill-advised 2016 spending spree going forward. Although that doesn't mean that the Blazers will gain any cap room during the 2020 offseason, it does mean that the club probably won't be flirting with the tax anymore and should have a little extra spending flexibility going forward.
Here's where things stand for the Trail Blazers financially in 2020/21, as we continue our Salary Cap Preview series:
Guaranteed Salary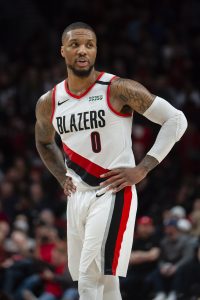 Damian Lillard ($31,626,953)
CJ McCollum ($29,354,152)
Jusuf Nurkic ($14,138,889)
Zach Collins ($5,406,255)
Andrew Nicholson ($2,844,430) — Waived via stretch provision
Anfernee Simons ($2,252,040)
Nassir Little ($2,210,640)
Anderson Varejao ($1,913,345) — Waived via stretch provision
Trevor Ariza ($1,800,000) — Partial guarantee. Non-guaranteed portion noted below. 1
Gary Trent ($1,663,861)
Total: $93,210,565

Player Options
Team Options
Non-Guaranteed Salary
Trevor Ariza ($11,000,000) 1
Total: $11,000,000

Restricted Free Agents
Wenyen Gabriel ($1,820,524 qualifying offer / $1,820,524 cap hold): Early Bird rights
Moses Brown (two-way qualifying offer / $1,445,697 cap hold): Non-Bird rights
Jaylen Hoard (two-way qualifying offer / $1,445,697 cap hold): Non-Bird rights
Total (cap holds): $4,711,918

Unrestricted Free Agents / Other Cap Holds
Hassan Whiteside ($32,742,000): Bird rights 2
Caleb Swanigan ($3,665,787): Bird rights 3
No. 16 overall pick ($3,121,080)
Carmelo Anthony ($1,620,564): Non-Bird rights
Total: $41,149,431
Offseason Cap Outlook

If we add the cap hold for their first-round pick to their guaranteed salaries and assume Hood and Hezonja opt in, the Blazers will be up near $105MM in commitments for 10 roster spots, eliminating the possibility of cap room.
Portland's spending ability from there will depend in large part on what the club does with Ariza and Whiteside. Both veterans played well for the Blazers, but it may not make sense to guarantee Ariza's $12.8MM salary or to pay market value to re-sign Whiteside with Nurkic due back. If neither player returns, the team would be able to comfortably use its full mid-level exception and bi-annual exception without nearing the tax line. If even one is retained, using those exceptions in full would be more challenging.
Cap Exceptions Available
Mid-level exception: $9,258,000 4
Bi-annual exception: $3,623,000 4
Trade exception: $7,069,662 (expires 1/21/21)
Trade exception: $2,338,847 (expires 2/8/21)
Trade exception: $1,790,993 (expires 7/8/20)
Footnotes
Ariza's salary becomes fully guaranteed after October 18.
Whiteside's cap hold will be equivalent to 30% of the 2020/21 salary cap.
The Trail Blazers can't offer Swanigan a starting salary worth more than his cap hold, since his rookie scale team option for 2020/21 was declined.
These are projected values. If team salary gets high enough, it's possible the Trail Blazers would instead be limited to the taxpayer mid-level exception ($5,718,000).
Note: Minimum-salary and rookie-scale cap holds are based on the salary cap and could increase or decrease depending on where the cap lands.
Salary information from Basketball Insiders and Early Bird Rights was used in the creation of this post. Photo courtesy of USA Today Sports Images.