Hoops Rumors is looking ahead at the 2020/21 salary cap situations for all 30 NBA teams. Due to the impact of the coronavirus pandemic on the NBA, it's impossible to know yet where the cap for 2020/21 will land. Given the league's lost revenue, we're assuming for now that it will stay the same as the '19/20 cap, but it's entirely possible it will end up higher or lower than that.

The Kings' 39-43 performance in 2018/19 qualified as a breakthrough. It was the team's best record in 13 years, after all. Sacramento didn't take another step forward in '19/20, but hung around the outskirts of the playoff race even as former No. 2 overall pick Marvin Bagley III missed most of the season and other key contributors – like De'Aaron Fox and Richaun Holmes – were sidelined with injuries for extended stretches.
Continued development from young players like Fox and Bagley will be crucial as the Kings look to make the leap from frisky lottery team to solid playoff contender. However, the team's young core will start getting more expensive going forward, beginning with Buddy Hield and Bogdan Bogdanovic in 2020/21.
Here's where things stand for the Kings financially in 2020/21, as we continue our Salary Cap Preview series:
Guaranteed Salary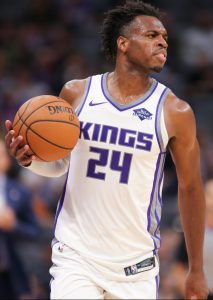 Buddy Hield ($24,931,817)
Harrison Barnes ($22,215,909)
Cory Joseph ($12,600,000)
Marvin Bagley III ($8,963,640)
De'Aaron Fox ($8,099,627)
Richaun Holmes ($5,005,350)
Justin James ($1,517,981)
Total: $83,334,324

Player Options
Team Options
Non-Guaranteed Salary
Restricted Free Agents
Unrestricted Free Agents / Other Cap Holds
Kent Bazemore ($28,904,493): Bird rights
Alex Len ($5,408,000): Early Bird rights
Yogi Ferrell ($4,095,000): Early Bird rights
Harry Giles ($3,976,510): Bird rights 2
No. 12 overall pick ($3,831,840)
Corey Brewer ($1,620,564): Non-Bird rights
Total: $47,836,407
Offseason Cap Outlook

Parker will likely opt in, so adding his salary and the cap hold for Sacramento's first-round pick increases the club's guaranteed commitments to about $94MM for nine roster spots. It's safe to assume the Kings will do all they can to re-sign Bogdanovic too, so they'll operate as an over-the-cap team.
A deadline deal that sent Dewayne Dedmon to Atlanta ensured that the Kings should have the flexibility to negotiate a market-value deal – or match any reasonable offer sheet – for Bogdanovic without approaching the luxury tax line. As such, Sacramento should have the non-taxpayer mid-level and bi-annual exceptions at its disposal this offseason, though it might not make sense to use both exceptions in full — especially if the team wants to retain Bjelica, Bazemore, or any of its other free agents.
Cap Exceptions Available
Mid-level exception: $9,258,000 3
Bi-annual exception: $3,623,000 3
Trade exception: $2,673,334 (expires 2/8/21)
Footnotes
Bjelica's salary becomes fully guaranteed after October 17.
The Kings can't offer Giles a starting salary worth more than his cap hold, since his rookie scale team option for 2020/21 was declined.
These are projected values. If team salary gets high enough, it's possible the Kings would instead be limited to the taxpayer mid-level exception ($5,718,000).
Note: Minimum-salary and rookie-scale cap holds are based on the salary cap and could increase or decrease depending on where the cap lands.
Salary information from Basketball Insiders and Early Bird Rights was used in the creation of this post. Photo courtesy of USA Today Sports Images.