Hoops Rumors is looking ahead at the 2020/21 salary cap situations for all 30 NBA teams. Due to the impact of the coronavirus pandemic on the NBA, it's impossible to know yet where the cap for 2020/21 will land. Given the league's lost revenue, we're assuming for now that it will stay the same as the '19/20 cap, but it's entirely possible it will end up higher or lower than that.

Following a thrilling run to the first NBA championship in franchise history last spring, the Raptors lost Finals MVP Kawhi Leonard, prompting a number of league observers to project a fall back to earth in 2019/20. However, this year's version of the Raps proved they're more than just Leonard's supporting cast, entering the hiatus with a 46-18 record, good for third in the NBA.
With key contributors like Fred VanVleet, Marc Gasol, and Serge Ibaka all headed for unrestricted free agency, Toronto's outlook is uncertain going forward, but the team should have the flexibility to bring back at least one or two of those veterans while retaining spending power for the 2021 offseason.
Here's where things stand for the Raptors financially in 2020/21, as we continue our Salary Cap Preview series:
Guaranteed Salary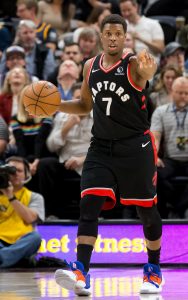 Kyle Lowry ($30,500,000)
Pascal Siakam ($27,285,000) 1
Norman Powell ($10,865,952)
Patrick McCaw ($4,000,000)
OG Anunoby ($3,872,215)
Matt Thomas ($725,000) — Partial guarantee. Non-guaranteed portion noted below.
Total: $77,248,167

Player Options
Team Options
Non-Guaranteed Salary
Restricted Free Agents
Chris Boucher ($1,985,289 qualifying offer / $1,985,289 cap hold): Early Bird rights
Malcolm Miller ($1,985,289 qualifying offer / $1,985,289 cap hold): Bird rights
Nando De Colo ($1,828,750 qualifying offer / $1,901,900 cap hold): Early Bird rights 5
Oshae Brissett (two-way qualifying offer / $1,445,697 cap hold): Non-Bird rights
Total (cap holds): $7,318,175

Unrestricted Free Agents / Other Cap Holds
Marc Gasol ($38,199,000): Bird rights 4
Serge Ibaka ($34,907,406): Bird rights
Fred VanVleet ($17,757,691): Bird rights
Lucas Nogueira ($8,841,915): Bird rights 5
Rondae Hollis-Jefferson ($3,000,000): Non-Bird rights
No. 29 overall pick ($1,950,600)
Jeremy Lin ($1,620,564): Non-Bird rights 5
Jodie Meeks ($1,620,564): Non-Bird rights 5
Jason Thompson ($1,620,564): Non-Bird rights 5
Total: $109,518,304
Offseason Cap Outlook

The Raptors don't currently have a ton of guaranteed money on their books for 2020/21, but we're assuming they'll operate as an over-the-cap team in order to retain the ability to re-sign some combination of VanVleet, Gasol, Ibaka, Boucher, and Hollis-Jefferson.
Depending on how expensive VanVleet and their veteran centers get, Toronto could even end up flirting with the tax line again next season. If we assume the cap doesn't increase at all for 2020/21 and that Johnson and all the non-guaranteed players return, the club would have a cushion of about $45MM to re-sign its own free agents (and/or add outside talent) before going into tax territory.
Cap Exceptions Available
Mid-level exception: $9,258,000 6
Footnotes
This is a projected value. Siakam's actual maximum salary will be 25% of the cap, unless he makes the All-NBA First or Second Team, in which case it will be anywhere from 28-30% of the cap.
Davis' new salary guarantee date is unknown.
Hernandez's new salary guarantee date is unknown.
Gasol's cap hold will be the lesser of $38,393,550 or 35% of the 2020/21 cap.
The cap holds for De Colo, Nogueira, Lin, Meeks, and Thompson remain on the Raptors' books because they haven't been renounced after going unsigned in 2019/20. They can't be used in a sign-and-trade deal.
This is a projected value. If the Raptors' team salary continues to increase, they may be limited to the taxpayer mid-level exception ($5,718,000).
Note: Minimum-salary and rookie-scale cap holds are based on the salary cap and could increase or decrease depending on where the cap lands.
Salary information from Basketball Insiders and Early Bird Rights was used in the creation of this post. Photo courtesy of USA Today Sports Images.