Hoops Rumors is looking ahead at the 2020/21 salary cap situations for all 30 NBA teams. Due to the impact of the coronavirus pandemic on the NBA, it's impossible to know yet where the cap for 2020/21 will land. Given the league's lost revenue, we're assuming for now that it will stay the same as the '19/20 cap, but it's entirely possible it will end up higher or lower than that.

After acquiring Mike Conley and Bojan Bogdanovic during the 2019 offseason, the Jazz were viewed as a strong candidate to join the likes of the Lakers and Clippers in the top tier of the Western Conference. Utah flashed that potential at times, but some prolonged slumps raised doubts about whether the team is a true contender.
At 41-23 and fourth in the West, the Jazz are theoretically well positioned to win a playoff series this summer, but Bogdanovic's season-ending wrist injury limits their upside. Utah should get another opportunity to reach its ceiling next season, however, as nearly all its key contributors remain under contract.
Here's where things stand for the Jazz financially in 2020/21, as we continue our Salary Cap Preview series:
Guaranteed Salary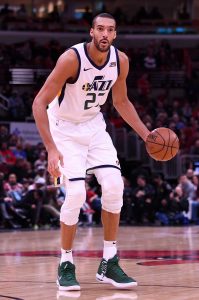 Rudy Gobert ($26,525,281)
Bojan Bogdanovic ($17,850,000)
Joe Ingles ($10,863,637)
Royce O'Neale ($8,500,000)
Donovan Mitchell ($5,195,501)
Ed Davis ($5,005,350)
Tony Bradley ($3,542,060)
Rayjon Tucker ($340,000) — Partial guarantee. Non-guaranteed portion noted below. 1
Total: $77,821,829

Player Options
Mike Conley ($34,502,132)


Note: Early termination option

Total: $34,502,132

Team Options
Non-Guaranteed Salary
Georges Niang ($1,783,557) 2
Juwan Morgan ($1,517,981)
Miye Oni ($1,517,981)
Nigel Williams-Goss ($1,517,981)
Rayjon Tucker ($1,177,981) 1
Total: $7,515,481
Restricted Free Agents
Unrestricted Free Agents / Other Cap Holds
Offseason Cap Outlook

It's a safe bet Conley won't be passing on the opportunity to earn $34.5MM next season, so we'll assume he waives his ETO (ie. opts in). If we add his salary to Utah's guaranteed contracts, along with Niang and the team's first-round pick, we're up to about $116MM for 10 roster spots. As such, there's virtually no doubt the Jazz will be operating as an over-the-cap team.
The Jazz's ability to make use of their full mid-level exception will depend in part on whether they re-sign Clarkson. Committing mid-level-type money to Clarkson could put Utah right up against the tax and take the full MLE off the table. But if Clarkson walks, the organization should have a bit of flexibility.
Cap Exceptions Available
Mid-level exception: $9,258,000 3
Bi-annual exception: $3,623,000 3
Footnotes
Tucker's new salary guarantee date is unknown.
Niang's new salary guarantee date is unknown.
These are projected values. If the Jazz's team salary continues to increase, they may be limited to the taxpayer mid-level exception ($5,718,000).
Note: Minimum-salary and rookie-scale cap holds are based on the salary cap and could increase or decrease depending on where the cap lands.
Salary information from Basketball Insiders and Early Bird Rights was used in the creation of this post. Photo courtesy of USA Today Sports Images.