As the NBA weighs potential formats for the resumption of its 2019/20 season, some pointed comments from Trail Blazers star Damian Lillard may influence the league's thinking. Speaking to Chris Haynes of Yahoo Sports, Lillard said he has no intention of suiting up for games this summer if Portland has no real chance to make the postseason.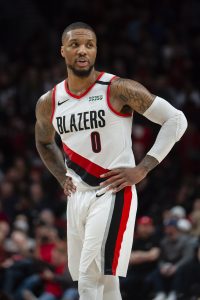 "If we come back and they're just like, 'We're adding a few games to finish the regular season,' and they're throwing us out there for meaningless games and we don't have a true opportunity to get into the playoffs, I'm going to be with my team because I'm a part of the team," Lillard told Haynes in a phone interview. "But I'm not going to be participating. I'm telling you that right now. And you can put that (expletive) in there."
The NBA is still determining whether it will bring back all 30 teams, only the 16 current playoff clubs, or something in between. The number of teams that resumes play will be tied to the format the league chooses — if just 16 clubs return, advancing directly to the playoffs is the logical move. If lottery teams are asked to participate, the league may give those clubs a chance to make the postseason via a play-in tournament. In that scenario, Lillard would be eager to participate.
"If we come back and I don't have an opportunity to make the playoffs, I will show up to work, I'll be at practice and I'll be with my team. I'm going to do all that (expletive) and then I'm going to be sitting right on that bench during the games," the Blazers guard said to Yahoo Sports. "If they come back and say it's something like a tournament, play-in style, between the No. 7 and No. 12 seeds, if we're playing for playoff spots, then I think that's perfect."
When the NBA went on hiatus on March 11, the Blazers had moved into ninth place in the Western Conference. With a 29-37 record, they were 3.5 games behind the Grizzlies for the eighth seed in the conference, and Lillard feels as if the team was positioned well for a late-season playoff push.
"We had our starting center (Jusuf Nurkic) and starting power forward (Zach Collins) coming back, so we had a lot to look forward to and for a great reason," Lillard told Haynes. "Now, they're healthy and have extra time to train and rehab while everybody's rusty. So now, they won't be coming back as the only rusty players. And if everybody's rusty, (expletive), we can come in here and beat everybody. I do feel like if we do come back and our mind is right, we can beat anyone."
On their own, Lillard's comments may not significantly impact the NBA's decision-making process, but it seems like a good bet that stars on other lottery teams share his views on the issue. And even if there are some who want to play regardless of the format, their teams may decide to hold them out of action if there's no upside. For instance, if the Warriors are asked to resume play without a path to the postseason, I don't expect we'll see Stephen Curry participate.
Lillard told Haynes that he's prepared for any scenario, but would be disappointed if the Blazers don't get a chance to earn a spot in the postseason.
"Right now, I'm just in a space where I want to come back and play. And if we start playing, I'll be ready to play. But if the league says it's only taking playoff teams, then I'm off to a head start in my summer training," he said. "I'll be pissed off because I feel like they basically stopped the season and went straight into the playoffs. We're chasing the team with the toughest schedule in the league and we're in ninth place. That would be weak, but it is what it is."
Photo courtesy of USA Today Sports Images.