The NBA's plan to return is starting to take shape and Shams Charania of The Athletic has some details on the league's bubble campus at Disney World in Orlando.
For starters, players are not obligated to attend. Any player who chooses not to play in the resumption of the season in Orlando will have to notify his team by June 24. Players will not be penalized for missing the contests (fines, future suspensions) but they will not be paid for the games. Compensation would be reduced by 1/92.6 for each game missed.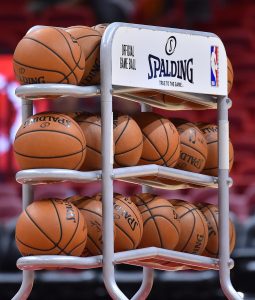 Some players, however, will fall under the "excused" or "protected" player criteria, meaning they will not have their salaries reduced as a result of missing time. "Protected" players are those whom the team believes has a higher risk for severe illness from COVID-19. "Excused" players will need a panel of three medical experts to determine that they have a higher risk for severe illness.
Here are more details on the NBA's return:
---
Phase 1: June 12-22
All players will undergo mandatory coronavirus testing in their home markets beginning on June 23. All players who were outside the United States should have returned to their home market already (June 15 was the deadline) and all other players should return to their home market by June 22.
The Raptors are an exception, as they are the league's only international franchise. The team will gather in Naples, Florida and use Florida Gulf Coast University's facilities to practice.
During Phase 1, several guidelines are in play:
Team facilities are open to players and only individual workouts are permitted, though participation is voluntary. Virtual meetings/workouts are also allowed.
Once players return to their home market, they are expected to leave the house only for essentials and trips to the team's facilities. That extends to anyone in their households.
---
Phase 2: June 23-30
By now, all players are expected to be utilizing their team facilities with the exception of the Raptors. Players are still expected to uphold the same guidelines for leaving their homes as in Phase 1. In Phase 2:
Mandatory COVID-19 testing will begin, which will consist of nasal swabs and oral swabs as well as blood drawn. There's a long swab called the nasopharyngeal. That will not be used as it was reported to have caused discomfort. Players have the option of volunteering to participate in a Yale study that is designed to come up with a saliva-based test.
Players must self-report if they or a member of their household are feeling sick or have symptoms. That information will go to the team's medical staff.
---
Phase 3: July 1-7
Head coaches enter the picture in Phase 3.
Workouts, which will still be conducted at the team's home locations (again, with the exception of Toronto), will be mandatory. Group workouts are still not allowed and no more than eight players will be allowed in the facilities at any given time.
---
Phase 4: July 7-11
Teams will begin to head to Disney World. Travel will be staggered via either flight or bus to Orlando between July 7-9.
Once teams arrive in Florida, there are some unique guidelines and protocols:
Players and team staff will stay isolated in their rooms. That will be the case until they have two negative COVID-19 tests at least 24 hours apart.
It's optional, but players can wear proximity alarms which will buzz if someone spends more than five seconds within six feet of another human being. For the alarm to work, the other person must also be wearing the alarm.
Team and league staff must wear the alarm. It remains to be seen whether referees will have to wear it.
Everyone on the campus will have to wear face masks. Some Disney employees will not be required to reside in the bubble nor undergo COVID-19 testing. Their temperature will be checked daily and they will be checked for symptoms.
---
Phase 4 Continued: July 11-21
By this point, everyone is at the NBA Campus. Group workouts will be allowed after the initial self isolation, though players will undergo COVID-19 testing routinely as well as undergoing daily temperature checks and other tests.
Players can only eat meals and participate in activities with other people staying in their hotel. The hotel situation is based on seeding, as Charania adds on Twitter. Here are the three groups:
Gran Destino:
Bucks
Lakers
Raptors
Clippers
Celtics
Nuggets
Jazz
Heat
Grand Floridian:
Thunder
76ers
Rockets
Pacers
Mavericks
Nets
Grizzlies
Magic
Yacht Club:
Blazers
Kings
Pelicans
Spurs
Suns
Wizards
The split means you won't see Ben Simmons playing golf (one of the activities allowed, along with playing cards) with LeBron James before July 21. Some other restrictions include:
Any meal eaten with a player from another team must be done outside.
Players are not allowed to hang out in each other's hotels.
There may be a few exceptions, but all food will be prepared on the NBA campus. However, players are allowed to hire a personal chef to prepare meals to be delivered to the campus.
Players are allowed to leave the campus, but the expectation is that they will stay on it. If a player leaves without prior approval, he will be subjected to testing, including that uncomfortable nasopharyngeal swab testing and a 10-to-14 day self-quarantine. The player could also be subjected to a reduction in pay for games he misses.
---
Phase 5: July 22-29
Each team will play three scrimmages against other clubs that are staying at the same hotel. Starting July 22, players and team staff are allowed to socialize with anyone from any of the hotels. Players still can't go into another person's hotel.
---
Phase 6: July 30-Oct 13
We are playing basketball.
Teams will play eight regular-season contests to determine seeding ("seeding games"). If necessary, there will be a play-in tournament for the eighth seed.
After all is sorted out, we will have a traditional 16-team, four-round, best-of-seven playoff format.
Once a team is eliminated, its players and staff will be tested and then immediately depart from the NBA campus.
In years past, players of championship teams have looked at the camera and said "I'm going to Disney World." This year, the last remaining team at the resort will be crowned the champion.
Photo courtesy of USA Today Sports Images.