10:28pm: The Rockets have officially signed Nwaba, waiving Hartenstein to create the necessary roster spot, the club confirmed in a press release.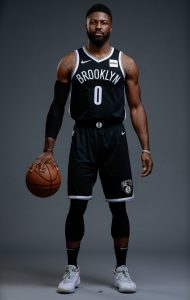 5:54pm: The Rockets have reached an agreement with free agent swingman David Nwaba, who will sign a two-year deal with the club, reports Shams Charania of The Athletic (via Twitter).
Nwaba started the 2019/20 season with the Nets, but suffered a torn Achilles tendon in December and was waived shortly thereafter. The 27-year-old is still recovering from that Achilles injury, so he won't actually play for Houston during the resumed season in Orlando, per Charania.
In other words, the Rockets are signing Nwaba for his potential 2020/21 value, and they're reportedly paying well above the minimum to secure his rights — Charania suggests (via Twitter) that the two-year agreement will pay Nwaba $900K this season, with a team option for '20/21. A minimum salary for the rest of the season would pay Nwaba less than $200K, so Houston will have to use the remaining portion of its taxpayer mid-level exception to complete the signing.
Nwaba, a strong perimeter defender, also held his own on the offensive end for Brooklyn in 20 games this season, averaging 5.2 PPG on .521/.429/.667 shooting in 13.4 minutes per contest. He previously appeared in 141 total games for the Lakers, Bulls, and Cavaliers, dating back to 2017.
In order to officially complete their deal with Nwaba, the Rockets will need to waive a player on their 15-man roster to create an opening. There's no word yet on who will be the odd man out, but Houston has a handful of players on the roster who have limited roles and aren't owed guaranteed money beyond this season, including Tyson Chandler, Bruno Caboclo, Isaiah Hartenstein, Thabo Sefolosha, and Chris Clemons.
Photo courtesy of USA Today Sports Images.