Now that the NBA has finalized its plan for the summer restart and teams have reported to Orlando, we have a pretty clear idea of what the rest of the 2019/20 season will look like, assuming it can be completed. However, uncertainty looms over the '20/21 campaign, which doesn't yet have an official start date.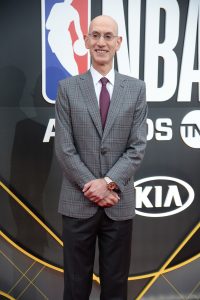 According to Alex Silverman of Morning Consult, the NBA's Global Innovation Group recently sent out an internal planning document outlining four possible scenarios for the 2020/21 season. Three of the proposed scenarios would feature a December start date and a July end date, but the fourth would see the season start in March 2021 and run through October, Silverman writes.
As Silverman explains, that fourth scenario is one that could be considered if there's a pathway in early 2021 to a coronavirus vaccine or therapeutic treatment for COVID-19 that would allow teams to host fans in their home arenas for a full season. Under that proposal, the league would consider breaking for the Tokyo Olympics in the summer and would execute a "rolling schedule" rather than releasing the full-season schedule at once, Silverman writes.
It seems more likely that the NBA will opt for one of the December-to-July scenarios (the league has tentatively proposed a December 1 start date), but that will mean making contingency plans and preparing for a wide variety of complications related to the state of the coronavirus pandemic across North America.
According to Silverman, the NBA may still have to consider rolling schedule releases if the season starts in December, as well as "increasing game density, building in buffers for canceled or rescheduled games, and potentially using alternate sites like neutral markets or practice and G League facilities." Regionally restricting matchups to reduce travel is also a possibility, Silverman adds.
Determining how to safely play in a world with the coronavirus will be a crucial question for the NBA to answer as it weighs its options for next season, but there are other important factors to consider, per Brian Windhorst and Tim Bontemps of ESPN. Notably, the NBA's owners and players will have to agree to a deal on how to financially operate, and 30 teams facing different restrictions and market conditions will have to figure out the best way to share revenues.
As Windhorst and Bontemps explain, the NBA salvaged its lucrative television deals in 2019/20 and had played about 75% of its regular season before the coronavirus pandemic forced a stoppage, so the financial losses were significant but not debilitating.
During the 2020/21 season, however, teams might not be able to fill their arenas with fans at all from opening night through the playoffs, which would significantly cut into the league's earnings — commissioner Adam Silver has estimated that about 40% of the NBA's revenues come from ticket sales and other arena-related revenues.
"The truth is, things are changing so fast that, when it comes to next season, the best we can do is put a stake in the ground and make a guess," an Eastern Conference team president told ESPN. "The reality is nobody is probably going to operate in the black next season. The only question is how much each of us are going to lose."
According to Windhorst and Bontemps, the league's financial situation will become even cloudier if – due to local health restrictions and regulations – some teams can't get fans into their arenas while others can. In a typical season, massive revenues for teams like the Lakers and Warriors help support smaller-market clubs. But if those smaller-market teams can host fans while big-market teams can't, "traditional revenue sharing becomes distorted," Windhorst and Bontemps write.
Sources tell ESPN that NBA deputy commissioner Mark Tatum recently told team presidents that the league's plan for now is to allow local governments to regulate crowds at games. That means franchises around the NBA could be at the mercy of the policy views of local governors and mayors.
The salary cap for the 2020/21 season will be another important detail to resolve. While there's a widespread desire to artificially smooth the cap based on this year's $109MM rather than allowing a substantial dip, that will require negotiations between owners and players. Additionally, as Windhorst and Bontemps note, since owners and players share the NBA's revenues, there will have to be some sort of system in place to ensure a split near 50/50 is maintained, even as revenues decrease.
According to the ESPN duo, one option would be to increase the amount of players' salaries that are held in escrow from 10% to 20%. Another option would be for the excess player salaries needed to balance the revenue split to be offset in future seasons.
"In one case, the owners want a loan from the players. And in the other case, the players want a loan from the owners," one agent told ESPN. "It will probably end up somewhere in the middle and it will get done after some yelling and posturing."
The NBA put in a ton of work to establish a plan to end the 2019/20 season — much more work will be required to figure out what next season will look like.
Photo courtesy of USA Today Sports Images.