Hoops Rumors is previewing the 2020 offseason for all 30 NBA teams. We're looking at the key questions facing each club, as well as the roster decisions they'll have to make this fall. Today, we're focusing on the Atlanta Hawks.

---
Salary Cap Outlook
With so much uncertainty surrounding the 2020/21 salary cap, it's impossible to say exactly how much space the Hawks will have. But they currently project to have more flexibility than virtually any other team in the NBA.
Even if the cap remains the same as it was in '19/20, Atlanta could comfortably get to $43MM+ in room, depending on where the team's lottery pick lands. Once they use up all that space, the Hawks will have the room exception available — it'd be worth $4.77MM if the cap doesn't increase.
Our full salary cap preview for the Hawks can be found right here.
---
Roster Decisions To Watch
Options:
None
Non-Guaranteed Contracts:
Two-Way Contracts:
Free Agents:
---
2020 Draft Assets
First Round:
No. 4 overall pick (pending lottery results)
The Hawks have the fourth-best lottery odds, but their most likely pick is No. 6 (25.7%). They have a 12.5% chance at the No. 1 pick and a 48.1% chance at a top-four selection, with No. 5 (7.2%), No. 7 (16.8%), and No. 8 (2.2%) also in play.
Second Round:
The Hawks will receive the more favorable of the Heat's and Rockets' second-round picks. That'll be Miami's second-rounder, which falls at No. 50 — Houston's will land in the No. 51-53 range.
---
Three Key Offseason Questions
1. How will the Hawks use their cap room?

Under general manager Travis Schlenk, the Hawks haven't been major players in free agency, preferring to hang back and wait for the potential bargains that are available a few days after the league year opens. Atlanta has generally had no shortage of cap space in those years, but has preferred to use it to absorb unwanted contracts to gain extra draft picks.
With the Hawks looking to soon make the transition from rebuilding team to perennial playoff threat, it would seem to be a prime time to adjust their free agency philosophy. With so much space available this fall, Atlanta could theoretically make a major splash, adding a veteran or two who could help push the team's young core over the top.
While that plan may sound good to team ownership, a couple of practical factors could complicate matters. For one, this year's free agent class isn't exactly loaded with stars for the Hawks to target. None of the players at the top of our free agent power rankings are really logical options for Atlanta.
Anthony Davis isn't leaving L.A.; the Pelicans almost certainly aren't letting Brandon Ingram get away; Montrezl Harrell doesn't make sense for a team that just acquired Clint Capela; and Fred VanVleet probably isn't an ideal partner for Trae Young in what would be a very undersized backcourt. There are players further down that list that could appeal to the Hawks, but investing big long-term money in any of them would be risky.
On top of that, this offseason sets up perfectly for Atlanta to stick with its formula of using cap room to accommodate salary dumps and collect assets. After all, with team owners across the league expected to feel the effects of the coronavirus pandemic, there may be several teams who are looking to cut costs and are willing to part with draft picks to do so.
The Hawks won't be in asset-gathering mode forever, and they can afford to be a little more aggressive on the free agent market in 2020. But being one of the only teams with maximum-salary cap room doesn't mean they'll come out of the offseason with a max-caliber player.
2. Is it time to consolidate assets in a trade?

If the Hawks can't land a star on the free agent market, could they do so in a trade? They have no shortage of trade chips available if they want to try to make a move, including an extra 2022 first-round pick and a handful of future second-rounders.
Young looks like an obvious keeper, but there's no one else on the Hawks' roster that is 100% assured of a long-term stay in Atlanta — the team would surely consider moving the likes of De'Andre Hunter, Cam Reddish, and/or Kevin Huerter if the price is right, and even John Collins was mentioned in trade rumors earlier this year.
Given Young's ability on offense and lack thereof on defense, the most logical fit for the Hawks would be a two-way wing who can lock down opposing scorers and doesn't necessarily need to dominate the ball.
Those players aren't easy to find though, and the most frequent subjects of trade speculation these days don't quite fit the bill — Bradley Beal and Zach LaVine, for instance, aren't strong enough defenders to pair with Young. Stars who might've made sense for the Hawks in past years when they were unhappy with their situations – such as Jimmy Butler or Paul George – are now in their preferred destinations and likely won't be going anywhere anytime soon.
The Hawks have done business with the Nets in recent years, and if Brooklyn makes Caris LeVert available this offseason in its search for a third star, that'd be an opportunity worth exploring. Otherwise, it's hard to find many ideal fits on the trade market if the Hawks want to cash in some chips for an impact wing.
3. Will the Hawks extend John Collins this fall?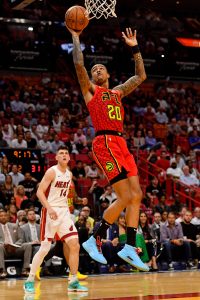 Currently, Capela is the only player on the Hawks' roster who is owed more than $15MM in any future season. He's also the one who has a fully guaranteed salary beyond 2021, with the exception of the players on their rookie contracts.
However, Atlanta will have to start making major financial decisions on its young talent as early as this offseason, when Collins becomes eligible for his rookie scale extension. There are compelling reasons for the Hawks to wait on a new deal for Collins and equally compelling reasons for the team to get something done this fall.
Waiting until 2021 to make a decision on Collins would give the Hawks a chance to evaluate how their Collins/Capela frontcourt actually looks on the court, since the two big men have yet to play a game together.
Additionally, since Collins has said multiple times in recent months that he feels as if he's worthy of a maximum-salary contract, it might make more sense to have him fully earn that max deal with a strong contract year rather than handing it to him after a season that started with a 25-game suspension for a drug violation.
Waiting for Collins to reach restricted free agency would also significantly increase the Hawks' flexibility in 2021. Rather than entering that offseason with a max salary for Collins (likely in the $28-30MM range) already on the books, the team would just have to carry his $12.4MM cap hold — that would create a ton of extra cap flexibility for the Hawks before they go over the cap to re-sign him.
On the other hand, the fact that Collins has so frequently talked about the possibility of an extension suggests it's important to him to get something finalized sooner rather than later for the sake of security, and Atlanta may not want to risk alienating one of its potential cornerstones.
A handful of factors – that 25-game suspension, a disappointing season for the Hawks, and the NBA's current financial outlook – may also give the club some leverage to negotiate something below the max for Collins. If he's open to that possibility, it could save the team some money in the long run. The Celtics and Pacers, for instance, were wise to complete extensions with Jaylen Brown and Domantas Sabonis last fall, since they would've been candidates for more lucrative offer sheets this offseason.
Whichever path the Hawks take, it won't necessarily represent their final decision on whether Collins is a long-term building block for the franchise. Trading him in a year or two will still be possible if he signs an extension, and locking him up in 2021 shouldn't be a problem even if the two sides don't agree to an extension this year.
Information from Basketball Insiders and ESPN was used in the creation of this post. Photos courtesy of USA Today Sports Images.