Hoops Rumors is looking ahead at the 2020/21 salary cap situations for all 30 NBA teams. Due to the coronavirus pandemic and its impact on the NBA calendar, it's impossible to know yet where the cap for 2020/21 will land. Given the league's lost revenue, we're assuming for now that it will stay the same as the '19/20 cap, but it's entirely possible it will end up higher or lower than that.

After adding two more young cornerstones – De'Andre Hunter and Cam Reddish – to their roster in the 2019 draft lottery, the Hawks looked like one of the Eastern Conference's most exciting young teams entering the 2019/20 campaign.
However, despite a monster offensive season from Trae Young, the Hawks didn't take a major step forward this year. The team didn't have a whole lot of effective veteran depth and its young players weren't fully ready to carry the load — a 25-game John Collins suspension didn't help either. Atlanta will head into '20/21 hoping for continued growth from its young core and with the cap flexibility necessary to continue adding talent.
Here's where things stand for the Hawks financially in 2020/21, as we launch our Salary Cap Preview series:
Guaranteed Salary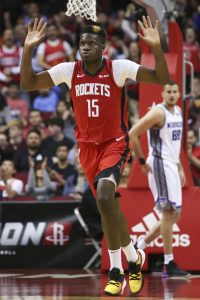 Clint Capela ($16,000,000)
Dewayne Dedmon ($13,333,333)
De'Andre Hunter ($7,422,000)
Trae Young ($6,571,800)
Cam Reddish ($4,458,000)
John Collins ($4,137,302)
Kevin Huerter ($2,761,920)
Bruno Fernando ($1,517,981)
Brandon Goodwin ($100,000) — Partial guarantee. Non-guaranteed portion noted below. 1
Total: $56,302,336

Player Options
Team Options
Non-Guaranteed Salary
Brandon Goodwin ($1,601,593) 1
Total: $1,601,593

Restricted Free Agents
DeAndre' Bembry ($3,752,338 qualifying offer / $7,811,946 cap hold): Bird rights
Skal Labissiere ($3,484,882 qualifying offer / $7,016,541 cap hold): Bird rights
Damian Jones ($3,457,586 qualifying offer / $6,915,172 cap hold): Bird rights
Charlie Brown Jr. (two-way qualifying offer / $1,445,697 cap hold): Non-Bird rights
Total (cap holds): $23,189,356
Unrestricted Free Agents / Other Cap Holds
Jeff Teague ($28,500,000): Bird rights
No. 6 overall pick ($5,813,640)
Vince Carter ($1,620,564): Early Bird rights
Treveon Graham ($1,620,564): Early Bird rights
Total: $37,554,768
Offseason Cap Outlook

Regardless of where the cap for the 2020/21 league year ends up, the Hawks are in a good spot and should have more room than virtually any other NBA team. If the cap remains the same as it was in '19/20, Atlanta could still easily get to $44MM+ in space.
Although that would be more than enough cap room to make a play for a maximum-salary player, I'm skeptical that GM Travis Schlenk would want to go that route, even if team ownership is getting antsy to make a major splash.
Cap Exceptions Available
Room exception: $4,767,000 2
Footnotes
Goodwin's new salary guarantee date is unknown.
This is a projected value.
Note: Minimum-salary and rookie-scale cap holds are based on the salary cap and could increase or decrease depending on where the cap lands.
Salary information from Basketball Insiders and Early Bird Rights was used in the creation of this post. Photo courtesy of USA Today Sports Images.