Hoops Rumors is previewing the 2020 offseason for all 30 NBA teams. We're looking at the key questions facing each club, as well as the roster decisions they'll have to make this fall. Today, we're focusing on the Minnesota Timberwolves.

---
Salary Cap Outlook
The Timberwolves only have about $75MM in fully guaranteed money on their books for 2020/21 so far, so they could theoretically create some cap room. But after accounting for James Johnson's player option ($16MM), along with cap holds for Juan Hernangomez ($9.96MM), Malik Beasley ($8.2MM), and their first-round picks (likely about $12.7MM combined), that cap room is nonexistent.
Minnesota figures to enter the offseason as an over-the-cap team, with the full mid-level exception (about $9.3MM) and bi-annual exception ($3.6MM) available.
Our full salary cap preview for the Timberwolves can be found right here.
---
Roster Decisions To Watch
Options:
James Johnson, player option: $16,047,100 (Oct. 17 deadline)
Non-Guaranteed Contracts:
Two-Way Contracts:
Free Agents:
Evan Turner (Bird)
Malik Beasley (RFA; Bird)
Juan Hernangomez (RFA; Bird)
---
2020 Draft Assets
First Round:
No. 1 overall pick
No. 17 overall pick
The Timberwolves lucked out in the lottery, nabbing the first overall pick for the second time in the last six years. The Wolves will also receive the Nets' first-round pick, which was lottery-protected but landed at No. 17.
Second Round:
Minnesota is the only team picking between Nos. 31-40 that didn't trade its second-round pick. It falls at No. 33.
---
Three Key Offseason Questions
1. How will the Timberwolves use the No. 1 overall pick?

Having traded away their top-three protected 2021 first-round pick in February to acquire D'Angelo Russell, the Timberwolves may very well find themselves without a lottery selection a year from now. So securing the top pick in this year's draft was a fortuitous turn of events for a franchise in need of a talent injection.
Unfortunately for president of basketball operations Gersson Rosas, there no Zion Williamson, Anthony Davis, or LeBron James at the top of the 2020 draft class. With no consensus No. 1 prospect and no players who are locks to become franchise cornerstones, Minnesota faces a tough decision with that first overall pick.
Drafting for need usually isn't the right move anywhere in the lottery, let alone at No. 1, but with Russell and Karl-Anthony Towns installed as their obvious building blocks at the point and in the middle, the Timberwolves would have to feel pretty confident about the fit if they were to take another point guard like LaMelo Ball or another big man like James Wiseman.
Going in that direction isn't out of the question. Jonathan Givony of ESPN projects the Wolves to select Ball at No. 1 in his latest mock draft, noting that the youngster's size will make it easy to pair him with another guard. Givony acknowledges that a Ball/Russell backcourt might be a disaster defensively, but suggests that no player in this year's class has more star power than Lonzo Ball's youngest brother.
There's another player who is viewed as a candidate for No. 1 though, and he might be a better match for Minnesota: Anthony Edwards. The former Georgia shooting guard is a talented scorer and has the strength, length, and quickness necessary to develop into a lockdown defender, ESPN's Mike Schmitz writes in his scouting report.
Given his obvious fit on the wing alongside Russell and Towns, Edwards looks like the safest pick for the Wolves at this point. But this draft figures to be an unpredictable one, so nothing can be ruled out yet. I could even see Rosas trading down, if another team wants to move up to nab a player who isn't atop the Wolves' board. Such a deal could be a way to replace the 2021 first-round pick Minnesota traded away earlier this year.
2. How much will RFAs Malik Beasley and Juan Hernangomez cost?

When they sent Robert Covington to Houston in a four-team deadline deal in February, the Timberwolves chose to flip Houston's 2020 first-round pick to Denver in order to land Beasley and Hernangomez.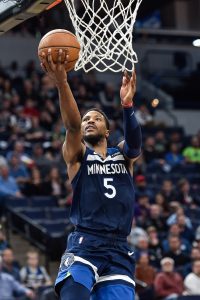 Neither player had been all that impressive in 2019/20 up until that point, having been buried in the Nuggets' rotation. But they made the Wolves look good over the next 14 games, right up until the season was suspended. Hernangomez contributed a solid 12.9 PPG and 7.3 RPG on .453/.420/.609 shooting in 29.4 minutes per contest, while Beasley was even better, with 20.7 PPG and 5.1 RPG on .472/.426/.750 shooting in 33.1 MPG.
The duo's success was a mixed blessing for the Wolves, who will now be tasked with retaining both players in restricted free agency. Part of the reason the Nuggets were willing to move on from Beasley and Hernangomez was an understanding that they probably wouldn't be willing to pay to re-sign them, but Minnesota is under more pressure to do so in order to make sure they recoup solid value from the Covington trade.
Few teams have cap room available, and those that do may turn to other free agents rather than trying to pry a pair of promising young restricted free agents away from a rebuilding team. But the Wolves will still probably have to pony up if they want to secure Beasley and Hernangomez for the long term. It wouldn't be a surprise if the duo ends up costing a combined $25MM+ per year.
If the Wolves are uneasy about the financial commitment it will take to lock up either player, the club could explore a sign-and-trade. Those were popular a year ago for RFAs who wanted to change teams, allowing their old clubs to acquire draft picks or other assets in return for declining to exercise their right of first refusal.
3. How will the impending sale of the team affect the Wolves going forward?

Longtime Timberwolves owner Glen Taylor confirmed last month that he was exploring a sale of the franchise, and there appears to be momentum for former Grizzlies minority stakeholder Daniel Straus to emerge as the club's new controlling owner.
Whether the next owner is Straus or someone else, we don't know much about how they would run an NBA team. The most pressing question, of course, would be whether the new owner would commit to keeping the team in Minnesota long-term, but it seems unlikely Taylor would sell to anyone not willing to do so.
Beyond that issue, there would be plenty of other questions to answer. How much would the new owner be willing to spend on players, coaches, and executives from year to year? Would they be patient with a rebuilding process or push to contend sooner rather than later? Would they want to have a hand in basketball matters at all? Would they want to make any leadership changes, perhaps replacing Rosas and/or head coach Ryan Saunders?
No fan wants its favorite team to be run by an owner who has a desire to cut costs or overrule the team's top basketball experts on key roster decisions. If and when Taylor sells, it'll be worth keeping a close eye on how the new ownership group adjusts to the job.
Information from Basketball Insiders and ESPN was used in the creation of this post. Photos courtesy of USA Today Sports Images.