Hoops Rumors is looking ahead at the 2020/21 salary cap situations for all 30 NBA teams. Due to the impact of the coronavirus pandemic on the NBA, it's impossible to know yet where the cap for 2020/21 will land. Given the league's lost revenue, we're assuming for now that it will stay the same as the '19/20 cap, but it's entirely possible it will end up higher or lower than that.

The Timberwolves were one of the NBA's worst teams in 2019/20, entering the league's hiatus with a 19-45 record, ahead of only Golden State in the Western Conference. Still, a healthy Karl-Anthony Towns and a revamped roster should generate some optimism going forward.
Only two players – Towns and Josh Okogie – who were on the roster when Gersson Rosas assumed control of the front office a year ago are still in Minnesota, as Rosas hasn't been shy to put his stamp on the franchise. While that trend could continue this offseason, the Wolves' top priority may be re-signing a couple of their own free agents rather than pursuing another splashy addition.
Here's where things stand for the Timberwolves financially in 2020/21, as we continue our Salary Cap Preview series:
Guaranteed Salary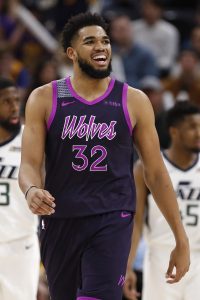 Karl-Anthony Towns ($29,467,800)
D'Angelo Russell ($28,649,250)
Jarrett Culver ($6,104,280)
Jake Layman ($3,761,085)
Josh Okogie ($2,651,040)
Jacob Evans ($2,017,320)
Omari Spellman ($1,988,280)
Cole Aldrich ($685,340) — Waived via stretch provision
Total: $75,324,395

Player Options
Team Options
Non-Guaranteed Salary
Restricted Free Agents
Juan Hernangomez ($4,642,800 qualifying offer / $9,963,090 cap hold): Bird rights
Malik Beasley ($3,895,424 qualifying offer / $8,195,142 cap hold): Bird rights
Kelan Martin (two-way qualifying offer / $1,445,697 cap hold): Non-Bird rights
Jordan McLaughlin (two-way qualifying offer / $1,445,697 cap hold): Non-Bird rights
Total (cap holds): $21,049,626

Unrestricted Free Agents / Other Cap Holds
Evan Turner ($27,909,834): Bird rights
No. 1 overall pick ($9,757,440)
No. 17 overall pick ($2,964,840)
Aaron Brooks ($1,620,564): Non-Bird rights 2
Total: $42,252,678
Offseason Cap Outlook

The Timberwolves are only carrying about $75MM in guaranteed salaries on their 2020/21 cap so far, but after accounting for James Johnson's player option and a pair of first-round cap holds, they're unlikely to have any cap room — especially if they intend to re-sign both Hernangomez and Beasley.
Depending on where their lottery pick lands and how high they have to go to retain those two restricted free agents, the Wolves could find themselves without much further flexibility. Minnesota won't be a tax team, but could theoretically end up close enough to that line after signing Hernangomez and Beasley that using the full mid-level exception and bi-annual exception wouldn't be viable.
Cap Exceptions Available
Mid-level exception: $9,258,000 3
Bi-annual exception: $3,623,000 3
Trade exception: $879,813 (expires 2/8/21)
Trade exception: $500,000 (expires 1/18/21)
Trade exception: $228,505 (expires 1/18/21)
Footnotes
Vanderbilt's new salary guarantee date is unknown.
The cap hold for Brooks remains on the Timberwolves' books because he hasn't been renounced after going unsigned since 2018. He can't be used in a sign-and-trade deal.
These are projected values. If team salary gets high enough, it's possible the Timberwolves would instead be limited to the taxpayer mid-level exception ($5,718,000).
Note: Minimum-salary and rookie-scale cap holds are based on the salary cap and could increase or decrease depending on where the cap lands.
Salary information from Basketball Insiders and Early Bird Rights was used in the creation of this post. Photo courtesy of USA Today Sports Images.