Throughout the season, Hoops Rumors takes a closer look at players who will be free agents or could become free agents this off-season. With the first round of the playoffs ongoing at the Orlando campus, it's time to examine if their stock is rising or falling due to performance and other factors.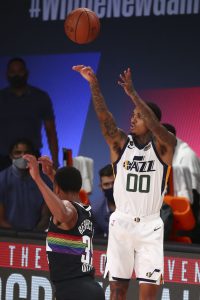 Jordan Clarkson, Jazz, 27, SG (Up) – Signed to a four-year, $50MM deal in 2016
The late-December deal with the Cavaliers that sent Clarkson to Utah was one of the most impactful trades this season. Clarkson filled a much-needed role as a scorer off the bench for the Jazz. He has reinforced his value during the restart, particularly during the first-round series with Mike Conley leaving Orlando for the birth of a child. Clarkson averaged 22.0 PPG, 4.0 RPG and 3.0 APG in the first two playoff games against Denver and was a team-best +33 in Friday's Game 3 win. Utah will certainly try to retain Clarkson but the Jazz will have competition for one of the league's top reserves in the prime of his career.
Paul Millsap, Nuggets, 35, PF (Down) – Signed to a three-year, $90MM deal in 2017
Michael Porter Jr. has been playing some small forward for Denver during the restart due to injuries but his future in the current NBA is at the four, the spot Millsap has occupied when healthy. Millsap's performances in the restart have been rather forgettable – 10 points or less in five of seven seeding games, along with 21 total points and seven rebounds in 65 minutes during the first three games of the Utah series. Perhaps the Nuggets will bring back Millsap if he's willing to accept a modest contract and a bench role. It's hard to see any other team viewing the big man as a starter at this stage of his career, so interest in him may be limited.
Timothe Luwawu-Cabarrot, Nets, 25, SG (Up) – Signed to a two-year, $2.48MM deal in 2019
Luwawu-Cabarrot has been one of the big surprises in Orlando. The Nets staggered into Orlando with a depleted roster, but the performances of Luwawu-Cabarrot and other unsung players allowed them to win five seeding games. He scored 24 or more points in three seeding games and has been a major factor off the bench against Toronto in the Nets' first-round playoff series, averaging 21.5 PPG in the first two games while making 47.4% of his 3-point attempts before the Raptors slowed him down on Friday. His $1.8MM salary for next season is not guaranteed, but he has forced Brooklyn's hand to retain him beyond this season.
Trey Burke, Mavericks, 27, PG (Up) – Signed to a one-year, $229K deal in 2020
Burke filled a roster spot this summer with Willie Cauley-Stein opting out of the restart. Though the Mavs still had other guard options, Burke has played steady minutes off the bench, averaging 12.0 PPG and 3.8 APG in the eight seeding games. He impacted Game 2 of the playoff series against the Los Angeles Clippers, scoring 16 points in 18 minutes. If nothing else, the 6-foot point man who has played for five organizations proved this summer he belongs on an NBA roster as a second-unit floor leader.
Jeff Green, Rockets, 33, PF (Up) – Signed to a one-year, $696K deal in 2020
Raise your hand if you thought Green would be an impact player this postseason after the Jazz lopped him off the roster to add a G League standout. The Rockets rescued him off the scrap heap and he's been a marvelous fit in Mike D'Antoni's small ball system. Green scored in double digits in all but one of the seeding games and he's been a huge factor against Oklahoma City in the playoffs, averaging 18.5 PPG and 6.5 RPG in 35.0 MPG through two games. If D'Antoni remains in Houston beyond this season, Green will likely re-sign there. If not, the journeyman has earned another opportunity to wear an NBA uniform.
Photo courtesy of USA Today Sports Images.