MARCH 3, 7:58pm: The Sixers have officially signed Jordan and ended Cauley-Stein's 10-day deal, the team confirmed in a press release. Jordan will earn a rest-of-season salary of $592,103, while Philadelphia takes on a cap hit of $374,126.
---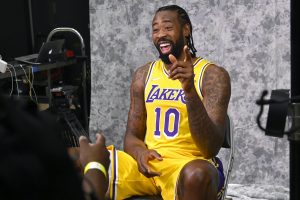 MARCH 3, 1:55pm: Jordan is expected to sign with the Sixers unless a team claims him off waivers prior to the 4:00pm CT deadline Thursday, sources tell ESPN's Adrian Wojnarowski (Twitter link). A waiver claim is considered unlikely, says Wojnarowski.
The Sixers plan to release Willie Cauley-Stein from his 10-day contract a couple days early in order to sign Jordan, Wojnarowski tweets. Cauley-Stein's 10-day deal had been on track to run through March 5.
---
FEBRUARY 28: The Sixers are the frontrunners to acquire DeAndre Jordan, according to ESPN's Adrian Wojnarowski, though the timing of such a move will have luxury tax implications.
The Lakers are waiving DeAndre Jordan in order to add free agent guard D.J. Augustin. Once Jordan hits the waiver wire, his veteran's minimum contract could be claimed by any team. Philadelphia, which has the seventh-best record in the league, is low in the pecking order.
As Bobby Marks of ESPN points out (Twitter link), Philadelphia currently has a projected $13.19MM tax bill and that would rise to $16.1MM if the team claims Jordan and his $1.66MM cap hit.
If the Sixers wait for Jordan to pass through waivers with the hope no other team claims him, they could sign him for the prorated veteran's minimum. In that scenario, their projected tax bill would only increase to $13.8MM.
The Sixers have been seeking a veteran center to back up Joel Embiid since trading Andre Drummond to Brooklyn in the Ben Simmons–James Harden blockbuster. They acquired Paul Millsap in that deal but Millsap, 37, is 6'7"' and a natural forward. They also signed Willie Cauley-Stein to a 10-day deal but may view Jordan as a better option.