The NBA announced today that Trail Blazers star Damian Lillard has been named the Player of the Seeding Games, earning de facto MVP honors for the league's restart.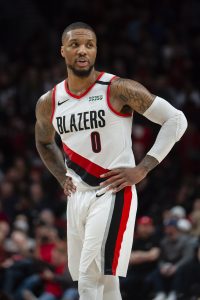 Lillard, who averaged 37.6 PPG and 9.6 APG on .497/.436/.888 shooting in eight seeding games, led the Blazers to a 6-2 record, allowing the team to surpass the Grizzlies for the No. 8 seed in the West. Portland will earn the conference's final playoff spot if it picks up a win over Memphis today or tomorrow.
Lillard was the unanimous selection among 22 media voters for the bubble's MVP award. Devin Booker (Suns) received 19 second-place votes, with T.J. Warren (Pacers) picking up two and Luka Doncic (Mavericks) getting the other one. Booker, Warren, Doncic, James Harden (Rockets) and Giannis Antetokounmpo (Bucks) all received third-place votes.
Meanwhile, Suns head coach Monty Williams was named the Coach of the Seeding Games, per today's announcement. The selection comes as no surprise after Williams led Phoenix to an 8-0 record this summer. The Suns narrowly missed out on a spot in the play-in tournament, but were the only club that went undefeated during the seeding games, despite initially being ranked 21st of the 22 teams invited to Orlando.
Williams was a near-unanimous choice, with Trail Blazers head coach Terry Stotts receiving one first-place vote and finishing second overall in voting. Nets coach Jacque Vaughn and Raptors coach Nick Nurse were among the other top vote-getters.
The NBA also announced All-Seeding Games First and Second Teams, as follows:
First Team:
Damian Lillard (Trail Blazers)
Devin Booker (Suns)
Luka Doncic (Mavericks)
James Harden (Rockets)
T.J. Warren (Pacers)
Second Team:
Lillard, Booker, and Doncic were unanimous First Team selections, with Harden and Warren each receiving 18 of 22 First Team votes. Antetokounmpo received the other eight First Team votes.
Photo courtesy of USA Today Sports Images.