The Pacers have relieved Nate McMillan of his head coaching duties, the team announced today in a press release.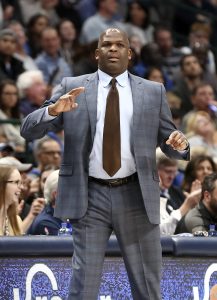 "On behalf of the Simon family and the Pacers organization, I'd like to thank Nate for his years with the team," Pacers president of basketball operations Kevin Pritchard said in a statement. "This was a very hard decision for us to make; but we feel it's in the best interest of the organization to move in a different direction. Nate and I have been through the good times and the bad times; and it was an honor to work with him for those 11 years (in Indiana and Portland)."
The move comes as a surprise, since the Pacers just signed McMillan to a one-year contract extension earlier this month. However, ESPN's Adrian Wojnarowski says (via Twitter) that "soft" extension involved a reworking of McMillan's deal for 2020/21, with a team option added for '21/22, so it sounds like Indiana didn't cost itself much money by changing course just two weeks later.
McMillan, 56, guided the Pacers to a 183-136 (.574) record over the last four seasons, earning four consecutive playoff berths during that stretch. Indiana's 45-28 (.616) mark this season represented the club's highest winning percentage since 2013/14.
McMillan, who is well-respected around the NBA, had generally been lauded in recent years for maximizing the Pacers' roster despite losing star forward Paul George – who requested a trade in 2017 – and dealing with a handful of major injuries, including the torn quad tendon that sidelined Victor Oladipo for a full year. The team's quick playoff exit this season at the hands of the Heat came without injured starters Domantas Sabonis and Jeremy Lamb available.
However, that loss to the Heat represented Indiana's fourth consecutive first-round exit, and there had been some chatter about a need to modernize the team's offense, which ranked last in the NBA this season in three-point attempts per game (28.0). In an unusual move, the Pacers mentioned McMillan's 3-16 postseason record in their announcement on his dismissal today, a signal that his lack of playoff success was a major factor in the club's decision.
ESPN's Jeff Van Gundy and Zach Lowe noted on a podcast earlier this month that there had been speculation around the league in recent months about McMillan being on the hot seat in Indiana.
The Pacers will begin their search for a new head coach immediately, according to today's announcement. They'll be vying with the Nets, Sixers, Bulls, and Pelicans for the top candidates on the market, becoming the sixth team to launch a coaching search in 2020 (the Knicks are the only club to have completed the process so far).
[RELATED: 2020 NBA Head Coaching Search Tracker]
According to Wojnarowski (via Twitter), current Rockets coach Mike D'Antoni will become an Indiana target if Houston decides to make a coaching change of its own. The Pacers will also explore a pool of candidates they'd consider "program builders," sources tell Woj (Twitter link).
Photo courtesy of USA Today Sports Images.