The Pelicans have parted ways with head coach Alvin Gentry, according to ESPN's Andrew Lopez and Adrian Wojnarowski (Twitter link). The team has made it official, confirming the news in a press release.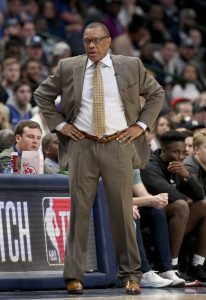 "I'm grateful for and appreciative of Alvin's commitment to the organization and, most importantly, the local community," Pelicans executive VP of basketball operations David Griffin said in a statement. "The City of New Orleans is richer because of his presence here. These types of moves are often about fit and timing, and we believe now is the right time to make this change and bring in a new voice."
Gentry's dismissal comes on the heels of a disappointing showing for New Orleans at the NBA's restart in Orlando. The Pelicans entered the summer tied with the Trail Blazers and Kings at No. 9 in the West, 3.5 games behind the eighth-seeded Grizzlies. However, while Portland surpassed Memphis for the No. 8 seed with a strong showing at Walt Disney World, the Pelicans struggled — despite a favorable schedule, they lost six of their eight seeding games.
In total, Gentry spent five seasons as the head coach in New Orleans, compiling a 175-225 (.438) record and making the playoffs just once. As Lopez observes (via Twitter), the Pelicans were hit hard by injuries in recent years, but the team still had loftier expectations, especially considering Anthony Davis anchored the roster for the first four years of Gentry's tenure.
A report earlier this week suggested there were strong signals that Griffin wanted to make a head coaching change, so today's news doesn't come as a major surprise. Gentry still had one year worth $5MM+ left on his contract, but it appears team ownership gave its approval to hire a new head coach while paying off the rest of that deal.
The Pelicans will now join the Bulls and Nets as teams seeking a new head coach. They'll have a head start on Brooklyn, which won't formally launch a search until its season is over.
[RELATED: 2020 NBA Head Coaching Search Tracker]
As Wojnarowski reported last weekend, Clippers assistant Tyronn Lue and Lakers assistant Jason Kidd are expected to be among New Orleans' top head coaching candidates. Lue, in particular, has a strong connection to Griffin, having coached the Cavaliers when Griffin was running the front office in Cleveland.
In their full ESPN.com story today on Gentry's dismissal, Wojnarowski and Lopez suggest former Nets coach Kenny Atkinson will also receive consideration from the Pelicans, as will Nets interim coach Jacque Vaughn if Brooklyn doesn't retain him. As Woj and Lopez note, New Orleans' general manager, Trajan Langdon, was previously a member of the Nets' front office, so he's very familiar with both Atkinson and Vaughn.
Sam Amick of The Athletic also recently identified Mike D'Antoni as a dark-horse candidate to replace Gentry if the Rockets don't retain him, noting that D'Antoni and Griffin previously worked together for several years in Phoenix.
The Pelicans' job figures to be an appealing one, considering the roster is anchored by rising stars like Zion Williamson and Brandon Ingram, as well as veteran guard Jrue Holiday. While Holiday could become an unrestricted free agent as early as 2021, New Orleans should control Williamson and Ingram for years to come — Zion is entering the second year of his rookie contract, while Ingram is eligible for restricted free agency this fall.
Photo courtesy of USA Today Sports Images.