The Sixers have parted ways with head coach Brett Brown, reports Adrian Wojnarowski of ESPN. The move, which has been confirmed in a press release by the club, had been anticipated in the wake of Philadelphia's quick, disappointing postseason exit.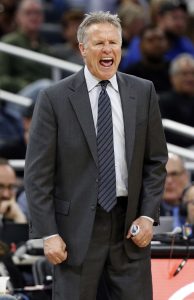 According to Wojnarowski, Brown's ouster is expected to be the first of multiple changes within the organization. The 76ers' senior leadership will likely explore an upheaval of the front office structure, sources tell ESPN. Amidst those looming changes, general manager Elton Brand is expected to continue overseeing basketball operations, Woj notes.
Brown, 59, was hired as the Sixers' head coach in 2013 by former head of basketball operations Sam Hinkie. His teams over the next four seasons posted a dismal 75-253 record (.229), but the franchise was focused on gathering assets during those years rather than on-court results. With Joel Embiid and Ben Simmons establishing themselves as stars, Philadelphia compiled a 146-91 mark (.616) during Brown's last three seasons.
Brown kept his job even as Hinkie was replaced in the front office by Bryan Colangelo, who was in turn replaced by Brand. However, the team's underwhelming results in the postseason in recent years and Brown's inability to fully unlock the potential of the Embiid/Simmons pairing led to the end of his tenure in Philadelphia.
"I have a tremendous level of respect for Brett both personally and professionally and appreciate all he's done for the 76ers organization and the City of Philadelphia," Brand said today in a statement. "He did many positive things during his time here, developing young talent and helping position our team for three straight postseason appearances. Unfortunately, we fell well short of our goals this year and I believe it is best to go in a new direction."
Brown reportedly had his ups and downs in 2018/19 with former Sixers swingman Jimmy Butler. During the '19/20 season, Al Horford expressed frustration about not having a defined role communicated to him, and some people in the locker room have questioned Brown's handling of rookie Matisse Thybulle, as we relayed earlier today. Josh Richardson also expressed on Sunday that "more accountability" is necessary within the organization going forward.
There was a sense within the Sixers that, after seven seasons, they had gone as far as they could with Brown, according to Wojnarowski, who reports that the head coach expected to be let go unless the team made a deep playoff run.
For what it's worth, Brown said after Sunday's loss that he felt as if he never got to show his full potential as a coach, due in large part to frequent injuries over the years. Both Embiid and Simmons have battled health issues in recent years.
There's still a "strong desire" to keep those two All-Stars together, according to Woj, who says the Sixers intend to let a new coaching staff attempt to maximize Embiid's and Simmons' potential before considering the idea of a trade.
Brown still had two years remaining on his contract with the 76ers.
Photo courtesy of USA Today Sports Images.