The NBA has officially announced its All-Defensive teams for the 2019/20 season. Unsurprisingly, Defensive Player of the Year (and possible repeat MVP) Giannis Antetokounmpo was the leading vote-getter with 195 total points. Players receive two points per First Team vote and one point per Second Team vote.
This is the Bucks forward's second consecutive appearance on the All-NBA First Team. Antetokounmpo was listed on 98 of 100 ballots from the 100 broadcasters and writers who comprised this year's voting panel. 97 of those voters awarded him a First Team vote.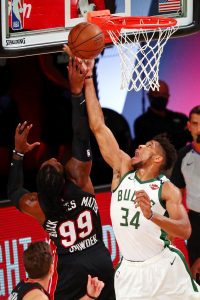 Lakers forward Anthony Davis was featured on every ballot and received a total tally of 187 points (including 87 First Team votes). Sixers guard Ben Simmons tallied 185 points with the third-most votes this year. Jazz center Rudy Gobert, the 2018 and 2019 Defensive Player of the Year, was fourth with 95 total votes (85 First Team), for 180 total points. Celtics guard Marcus Smart rounded out the All-Defensive First Team with 152 points, including 57 First Team votes.
Gobert's inclusion on the All-Defensive First Team has earned him a $500K bonus, Bobby Marks of ESPN tweets. Antetokounmpo's Bucks teammates Brook Lopez (67 points) and Eric Bledsoe (59 points) each made the All-Defensive Second Team.
[RELATED: Giannis Antetokounmpo Named Defensive Player Of The Year]
Here are the full voting results for the All-Defensive First and Second Teams, with each player's point total noted in parentheses:
First Team:
Second Team:
Kawhi Leonard, F, Clippers (128)
Brook Lopez, C, Bucks (67)
Bam Adebayo, F/C, Heat (61)
Patrick Beverley, G, Clippers (60)
Eric Bledsoe, G, Bucks (59)
You can find the full voting results right here.
Photo courtesy of USA Today Sports Images.