Hoops Rumors is previewing the 2020 offseason for all 30 NBA teams. We're looking at the key questions facing each club, as well as the roster decisions they'll have to make this fall. Today, we're focusing on the Dallas Mavericks.

---
Salary Cap Outlook
If we assume that Tim Hardaway Jr. and Willie Cauley-Stein exercise their player options and account for the Mavericks' first-round pick, the club will have nearly $112MM on its books before making any offseason moves. That would eliminate the possibility of cap room, but would give Dallas a good amount of breathing room below the tax threshold.
As a result, the Mavs will have the full mid-level exception ($9.26MM) available this offseason. The bi-annual exception won't be in play since Dallas used it a year ago to sign Boban Marjanovic.
Our full salary cap preview for the Mavericks can be found right here.
---
Roster Decisions To Watch
Options:
Tim Hardaway Jr., player option: $18,975,000
Willie Cauley-Stein, player option: $2,286,357
Non-Guaranteed Contracts:
Two-Way Contracts:
Free Agents:
---
2020 Draft Assets
First Round:
Second Round:
The Mavericks have their own first-round pick at No. 18, but traded away their second-rounder (No. 48) at the 2017 trade deadline when they acquired Nerlens Noel from Philadelphia.
Fortunately, Dallas picked up another second-round pick in the 2020 draft, acquiring the Warriors' second-rounder back in 2016 as part of an Andrew Bogut salary dump. That deal, which helped clear the cap space necessary for Golden State to sign Kevin Durant, wasn't a popular one among rival teams at the time, but it's paying off for the Mavs this year — the Warriors' pick is at the very top of the second round.
---
Three Key Offseason Questions
1. How will the Mavericks balance their short- and long-term outlook this offseason?

The 2019/20 season represented a breakout year for the Mavericks, who posted their best winning percentage (.573) since 2014/15 as Luka Doncic transformed into an MVP candidate and Kristaps Porzingis enjoyed a productive first year in Dallas.
After earning the No. 7 seed in the West and playing the Clippers tough in the first round, the Mavs will feel compelled to keep upgrading the roster in the hopes of taking another big step toward title contention in 2020/21. However, Dallas seems more likely to remain in something of a holding pattern during the 2020 offseason, since the team doesn't have a ton of short-term flexibility and will want to maximize its spending ability in 2021.
A year from now, Tim Hardaway Jr.'s $19MM salary will come off the books, as will Boban Marjanovic's more modest $3.5MM figure. Assuming there's at least a small increase in the salary cap, the club will be well-positioned to create either a maximum-salary cap slot or something close to it. In other words, it probably doesn't make sense to invest in multiyear deals for role players this offseason, since those deals would cut into the team's '21 cap space, compromising a potential opportunity to add an impact player.
That doesn't mean Dallas has to stand pat in the coming months. Adding potential contributors on one-year deals is a viable option, and the club won't hesitate to explore the trade market for upgrades. It's even possible that the Mavericks could trade for a third impact player to complement Doncic and Porzingis without having to wait to clear cap room in 2021.
However, with multiple future first-round picks tied up due to previous trades – and without a ton of expendable young players who could be trade chips – it will probably be simpler for the Mavs to pursue that sort of impact player in free agency in 2021 rather than on the trade market.
The 2020 offseason will be an interesting challenge for Dallas. Following the team's impressive showing in 2019/20, the Mavs' front office won't want to give its players the impression that it's being inactive this fall, but the club will still want to prioritize building a long-term contender over pursuing short-term success in '20/21.
2. How will the Mavericks use their mid-level exception?

The Mavericks won't have cap room in 2020, but they also don't appear to be in any danger of approaching or surpassing the luxury tax threshold, so they'll be able to use their full $9.3MM mid-level exception.
Splitting that exception into multiple parts is one possibility. Dallas took that path in 2019/20, using most of the MLE to lock up Seth Curry and a small portion of it to sign second-round pick Isaiah Roby. Landing another veteran like Curry, who can reliably play a rotation role, should be the Mavs' goal with the mid-level this offseason, and I expect they'll earmark most or all of it for that purpose.
The challenge, of course, will be finding a quality contributor willing to accept a deal worth the MLE that's only fully guaranteed for a single year, so as not to compromise the 2021 space. By comparison, Curry's contract was for four years and $32MM.
One factor working in the Mavs' favor is that so few teams have cap room available this offseason. Once a few of the bigger-name targets come off the board, that leaguewide cap space may completely dry up, so it's possible that some solid players in the second or third tier of this year's list of free agents won't be able to do better than the mid-level. Dallas would be in position to take advantage of that situation.
We'll have to wait to see what sort of players will be within reach for the Mavs when the free agent period begins. A couple potential targets I like are D.J. Augustin – a dependable point guard who can play on or off the board and make outside shots – and Marcus Morris, whose physicality and ability to guard high-scoring opposing forwards would help fill a hole on Dallas' roster. However, it's certainly possible both players will receive more appealing multiyear offers.
3. What will the Mavericks do with their two draft picks?

The Mavericks' have another obvious path to upgrading their roster this summer: their two draft picks, which fall at No. 18 and No. 31. The team was able to find a contributor in the second round in 2018 (Jalen Brunson) and doing so with either of its draft picks this year would help open up options in the future, even if the player doesn't make a major immediate impact.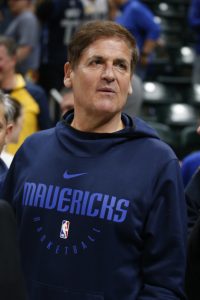 Dallas currently has five role players slated to earn between $4-11MM in 2021/22. Trading one or more of those players in the next year would allow the club to create even more cap room in the 2021 offseason, and could be the difference between whether or not a max-salary slot is available.
The best way to make a veteran role player expendable is to find a younger, lower-cost player capable of doing many of the same things on the court that the vet does. If the Mavs draft well this year, it might clear the way to trade, say, Delon Wright.
While the Mavs hold the No. 18 and No. 31 selections for the time being, there are ways for the team to maximize the value of those picks beyond simply using them. As ESPN's Bobby Marks suggests, combining those picks to potentially move up into the top 15 may be possible if there's a target Dallas has its eye on. Acquiring a future first-rounder to help replace one of the picks dealt for Porzingis could be an option too.
With limited draft resources available for the next few seasons, the Mavs will want to consider all their options with these two picks to ensure they make the most of them.
Information from Basketball Insiders and ESPN was used in the creation of this post. Photos courtesy of USA Today Sports Images.