Hoops Rumors is previewing the 2020 offseason for all 30 NBA teams. We're looking at the key questions facing each club, as well as the roster decisions they'll have to make this fall. Today, we're focusing on the Los Angeles Clippers.

---
Salary Cap Outlook
The Clippers currently have approximately $109MM committed to nine guaranteed salaries for 2020/21. That figure doesn't account for potential free agents like Montrezl Harrell, Marcus Morris, and JaMychal Green. The team will definitely be over the cap and could approach the tax line if it wants to re-sign more than one of those free agents.
If the Clippers' team salary increases significantly as a result of re-signing those free agents, they may be limited to the taxpayer mid-level exception ($5.72MM). If not, they'll have the full MLE ($9.26MM) and bi-annual exception ($3.62MM) available. The club also had a couple modest trade exceptions on hand, including one worth $3.57MM.
Our full salary cap preview for the Clippers can be found right here.
---
Roster Decisions To Watch
Options:
JaMychal Green, player option: $5,005,350
Non-Guaranteed Contracts: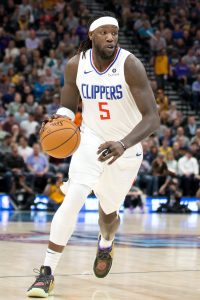 Two-Way Contracts:
Free Agents:
---
2020 Draft Assets
First Round:
Second Round:
The Clippers hung onto their own second-round pick at No. 57, but sent their first-rounder (No. 27) to the Knicks at the 2020 deadline in a deal for Marcus Morris.
---
Three Key Offseason Questions
1. Which frontcourt free agent(s) will the Clippers prioritize?

The Clippers' stars remain under contract through next season, as do key backcourt contributors like Patrick Beverley and Lou Williams. However, many of Los Angeles' most important frontcourt players not named Kawhi Leonard or Paul George are eligible to his the open market, creating some difficult decisions for the franchise.
Montrezl Harrell, coming off a Sixth Man of the Year award, will be an unrestricted free agent and is poised to be one of the most talented big men on the market. He's still just 26 years old and has put up big-time offensive numbers since arriving in L.A., including an average of 18.6 PPG on 58.0% shooting in 63 games in 2019/20.
Fortunately for the Clippers, and unfortunately for Harrell, this isn't 2016. There's not an abundance of league-wide cap room available, and teams probably aren't going to reward a non-star center with a massive long-term contract like the ones Joakim Noah, Bismack Biyombo, and Ian Mahinmi received four years ago.
That doesn't mean that Harrell isn't in line for a nice payday, but he's unlikely to cost $20MM per year to retain. ESPN's Bobby Marks estimated that the Clippers' big man will receive a starting salary in the $10-12MM range. I think he could do a little better than that, but his defensive inconsistency will limit his value. And if the few teams with cap room use that space on other players, Harrell's options will be extremely limited.
The Clippers' decision on Harrell will be tied to which direction the team goes on two power forwards, Marcus Morris and JaMychal Green. Morris is an unrestricted free agent, while Green can also become a UFA if he turns down his $5MM player option — given the role he played on the Clippers, he can reasonably argue he outperformed that option.
Morris' offensive numbers fell off substantially after he was traded from the Knicks to L.A., but he'll still be a sought-after veteran this offseason — his toughness, size, defensive versatility, and scoring ability make him an easy fit on just about any contender. Marks estimates that Morris' starting salary might be in the same range as Harrell's ($10-12MM), though teams may be more reluctant to offer the 31-year-old a long-term deal.
As for Green, he'll likely be the most affordable of the three, but getting him back on another $5MM deal might be too optimistic. I wouldn't be surprised if he's offered a contract similar to the two-year, $16MM pact he signed with Memphis in 2017.
The Clippers, who already project to be over the cap without accounting for any of their free agents, probably aren't enthusiastic about the idea of going into tax territory to re-sign Harrell, Morris, and Green without making any other upgrades. So something's got to give here, and it will be fascinating to see which of these players becomes the Clippers' top priority and which is viewed as expendable.
2. How will the Clippers address the point guard position?

A consensus emerged following the Clippers' disappointing second-round exit last month that while the team had a deep, versatile roster, it could have used a point guard capable of assuming more ball-handling and play-making responsibilities.
When Leonard won titles in San Antonio and Toronto, he did so alongside Tony Parker and Kyle Lowry, respectively — there was no point guard like that on L.A.'s 2019/20 roster. Beverley is a strong defender but isn't a dynamic offensive player, while Williams is more of a score-first player and Reggie Jackson couldn't be relied upon for major playoff minutes.
It will be a challenge for the Clippers to find the kind of player they're looking for on the free agent market this fall. Fred VanVleet will be out of their price range and most of the other point guards available won't move the needle for L.A. — veterans like D.J. Augustin or Jeff Teague are solid but probably not the extra piece a team needs to win a championship.
The two most intriguing names on the free agent market are Rajon Rondo and Goran Dragic. The Clippers have already been linked to Rondo, who played an important part in helping the Lakers capture their 17th championship and should be attainable for a deal worth the mid-level or less. He'd be a nice fit — especially since signing him away from the Lakers would help weaken the defending champions' roster.
As for Dragic, he's less likely to be within the Clippers' price range. It's possible a multiyear deal could lure him away from the Heat, who figure to make him a sizeable one-year offer. But a salary in the mid-level range probably won't be enough to do it.
If the Clippers don't land Rondo and don't like their other free agent options, pursuing a trade could be the way to go. Unfortunately, some of the veteran point guards who would be the best fits – such as Chris Paul, Mike Conley, and Lowry – are impractical trade targets for various reasons, including their mammoth cap hits. But there are more affordable players out there who could realistically be available, like perhaps Ricky Rubio, Dennis Schroder, and Derrick Rose.
3. Are Leonard and George in it for the long haul?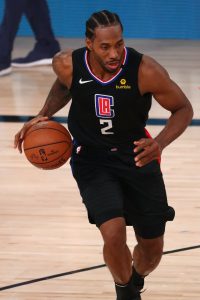 It was a major coup for a long-downtrodden franchise last July when Leonard chose to sign with the Clippers and essentially brought George along with him in a trade from the Thunder.
The moves instantly made L.A. a title contender and generated so much excitement that it was easy to overlook one key detail — the contract Kawhi signed was only for three years, with a player option after year two. That means both he and George will be eligible to reach free agency in 2021, just one year from now.
Technically then, Leonard's and George's futures are questions that will have to be answered next offseason and not necessarily this year. But with that uncertainty looming over the franchise, there will be added urgency in the front office to make sure this year's roster has the right pieces in place to make a championship run. Another early exit in the playoffs could significantly dent the Clippers' odds of keeping their two star forwards for the long term.
While the Clippers will do what they can to make sure Leonard and George are happy, the odds that the two stars will bolt in a year seem low to me.
They're both Southern California natives who chose Los Angeles over every any other potential destination — Kawhi left a championship team to move home, while George has been talking for years about the possibility of playing in L.A., even as he signed a new deal with the Thunder. Plus, Leonard's decision to sign a shorter-term contract can be attributed to his desire to ink a more lucrative maximum-salary contract once he earns 10 years of NBA experience after next season.
Even if the idea of Leonard and George jumping ship is a long shot, the Clippers can't take anything for granted. But if they can get any sort of assurances from those two stars that they're planning on sticking around for the long haul, it'll make it easier for the team to bring in the necessary pieces without making any panicky, short-term moves.
Information from Basketball Insiders and ESPN was used in the creation of this post. Photos courtesy of USA Today Sports Images.