Hoops Rumors is previewing the 2020 offseason for all 30 NBA teams. We're looking at the key questions facing each club, as well as the roster decisions they'll have to make this fall. Today, we're focusing on the Milwaukee Bucks.

---
Salary Cap Outlook
Taking into account their eight players with guaranteed salaries and the cap hold for the first-round pick, the Bucks already have $116MM in commitments on their books for 2020/21, so they'll be over the cap.
There are some other wild cards to consider here, including Ersan Ilyasova's non-guaranteed $7MM salary, a pair of player options, and the Bucks' desire to add an impact player.
I'd ultimately expect Milwaukee to be in the tax or close to it, limiting the team to the taxpayer mid-level exception ($5.72MM). But if the club maintains some maneuverability below the tax line, it could have the full MLE ($9.26MM) and bi-annual exception ($3.62MM) to work with.
Our full salary cap preview for the Bucks can be found right here.
---
Roster Decisions To Watch
Options:
Non-Guaranteed Contracts:
Ersan Ilyasova ($7,000,000)
Two-Way Contracts:
Free Agents:
---
2020 Draft Assets
First Round:
Second Round:
The Bucks' own draft picks (Nos. 30 and 60) belong to Boston and New Orleans, respectively. The first-rounder was part of the package sent to Phoenix in 2017 for Eric Bledsoe before it was eventually rerouted to the Celtics. The second-rounder was one of several picks Milwaukee traded to the Pelicans for Nikola Mirotic at the 2019 deadline.
Milwaukee regained a first-round pick (No. 24 overall) in last summer's sign-and-trade deal that sent Malcolm Brogdon to the Pacers.
---
Three Key Offseason Questions
1. Will Giannis Antetokounmpo sign a contract extension?

Antetokounmpo's contract doesn't expire until 2021, but the decision he makes in 2020 may have a greater impact and longer-term ramifications than any of this fall's free agent signings. The two-time reigning MVP is up for a "super-max" contract extension that would start at 35% of the 2021/22 salary cap and would tack five years onto his current deal, locking him up through 2026.
[RELATED: Examining What Super-Max For Giannis Would Be Worth]
There's no doubt that the Bucks will put that offer on the table, but after two consecutive seasons of the team finishing the regular season with the NBA's best record and then falling short of the Finals in the postseason, it remains to be seen whether Giannis will accept it.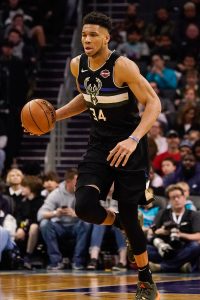 Antetokounmpo has said all the right things about his desire to remain in Milwaukee long-term and to win a championship with the Bucks. And while NBA fans have been conditioned to treat those sort of remarks with skepticism, there's reason to believe Giannis' comments are more genuine than most.
The Bucks' star has spoken in the past about preferring to beat his fellow superstars rather than befriending and teaming up with them. He didn't grow up playing on the AAU circuit and isn't part of the Team USA program, so he hasn't used those avenues to build relationships and plot unions like some stars have in the past. Additionally, Milwaukee is the only home Antetokounmpo has known since he arrived in the U.S., which means he's unlikely to pull a Kawhi Leonard — Leonard, of course, chose to return home to Los Angeles last summer despite having just won a championship in Toronto.
Still, while there are plenty of factors working in the Bucks' favor, there are also some reasons why Giannis may not be eager to immediately sign up for five more years in Milwaukee.
The Bucks' last two playoff exits have been especially disappointing — the team blew a 2-0 in the Eastern Finals in 2019, then couldn't muster more than a single win against an underdog Heat team in the second round of the 2020 postseason. On top of that, the coronavirus pandemic has complicated the NBA's salary cap outlook for the next two or three seasons, meaning Antetokounmpo may be incentivized to sign shorter-term deals until the cap starts to rise again.
While it's certainly not out of the question that Antetokounmpo signs a super-max extension with the Bucks this offseason, my feeling for now is that he's more likely to put off that decision. He could sign the same five-year, super-max offer with Milwaukee as a free agent in 2021, and by that point, he should have a clearer picture of the NBA's financial outlook. He'll also have another playoff run with the Bucks under his belt, giving him a better idea of whether the club is a legit title contender. It's even possible the club will win a title in 2021, which would presumably make his decision that much easier.
If Giannis isn't ready to commit to a five-year extension, but doesn't want the contract situation hanging over his head all season, a shorter-term extension – like the one Bradley Beal signed last year with the Wizards – is another option. However, that would close the door on the super-max possibility until he gains 10 years of NBA experience in 2023 and might mean accepting less than even the 30% max in 2021/22. In other words, if he's looking to maximize his future earnings, signing a bridge extension a year before free agency probably isn't the right play.
2. Is Bucks ownership ready to pay the tax?

As Antetokounmpo mulls a potential long-term commitment to the Bucks, it may be time for the team's ownership group to prove it's serious about investing big money not just in its superstar, but in the roster around him.
Following the Bucks' elimination from the playoffs in September, co-owner Marc Lasry met with Antetokounmpo and reportedly assured him that the team is ready and willing to spend into the luxury tax to make upgrades.
The fact that Milwaukee signed-and-traded free agent guard Malcolm Brogdon to a division rival in 2019 rather than signing him to a new contract would seem to contradict the assertion that the team has no qualms about becoming a taxpayer. But it's worth noting that the Bucks were said to have some long-term health concerns about Brogdon — it's possible they simply didn't feel he was the right player for that sort of investment.
Now that we're a year closer to Antetokounmpo's potential free agency, there's more urgency for the Bucks to do all they can to ensure their star wants to stick around. And Lasry and his co-owners are positioned to have an immediate opportunity to back up their words with actions.
The Bucks only have about $114MM committed to eight guaranteed salaries for now, but that figure would surpass $128MM if Ersan Ilyasova is retained, Robin Lopez opts in, and the club keeps its first-round pick. And it would go even higher if the team wants to retain Pat Connaughton or Wesley Matthews, or bring in adequate replacements. Using the mid-level exception and/or making a trade that adds team salary could make the Bucks a taxpayer, especially if the threshold ($132.6MM) remains unchanged for next season.
The Bucks will likely become more comfortable with paying an annual tax bill – including potential repeater penalties down the road – if Giannis signs an extension and they know he'll be around for the next half-decade. But they can't wait until after Giannis re-ups to exhibit their willingness to spend big. Making upgrades and going into the tax for 2020/21 will show the two-time MVP they're serious without necessarily putting them on the hook for future tax payments if Antetokounmpo ultimately decides to leave.
3. Can the Bucks acquire an impact player by building a trade package around Eric Bledsoe?

Free agency will be one potential avenue for the Bucks as they consider roster upgrades this offseason, but they won't have any cap room available. And if they'd prefer to avoid becoming hard-capped, then using the full mid-level exception or acquiring a player via sign-and-trade won't be options either. That means Milwaukee's most intriguing path to acquiring a potential impact player is via the trade market.
The Bucks have a few pieces they could package in trade offers this fall. Bledsoe ($16.9MM) is the club's most obvious trade chip, both because his salary is useful for matching purposes and because he has been an offensive liability in the postseason over the last two years, despite impressive regular season performances. George Hill (9.6MM) and Ilysaova ($7MM) are among the team's other potential veteran assets, though Ilyasova's expiring contract would have to be fully guaranteed if it's to be used for salary matching.
Those three players are useful rotation pieces, but they're not moving the needle in a major way for any team shopping an impact player. The Bucks will have to sweeten the pot a little, perhaps offering the Pacers' 2020 first-round pick (No. 24), along with at least one of their own future first-rounders. Having already conditionally dealt their 2022 pick, a '24 first-rounder is probably the best Milwaukee can do.
It's a somewhat underwhelming package — if the Bucks go after someone like Jrue Holiday, they'll almost certainly be outbid by other suitors. But an offer headed by Bledsoe and a couple first-rounders might be enough to land a player like Chris Paul (whose massive contract hurts his value), Buddy Hield (who may have worn out his welcome in Sacramento), or even Victor Oladipo (who didn't look fully healthy this season).
I think Paul, in particular, would be a nice fit for the Bucks. The veteran point guard could share ball-handling duties with Giannis and would provide the sort of reliable shooting that Bledsoe hasn't — he wouldn't be a major downgrade on defense either. However, a September report suggested it's "highly unlikely" that Milwaukee goes after CP3. His contract is apparently a concern, as is bringing a strong veteran personality onto a roster that already has a superstar leader in Antetokounmpo.
If Paul isn't high on the Bucks' list of potential targets, I'll be curious to learn who is. It's possible the front office believes only minor roster adjustments are necessary, given the team's regular season track record since 2018. But adding a reliable play-maker and shot-maker to the backcourt would make Milwaukee an even more formidable postseason threat, and I'm skeptical that sort of difference-maker will be affordable and attainable in free agency.
Information from Basketball Insiders and ESPN was used in the creation of this post. Photos courtesy of USA Today Sports Images.