Hoops Rumors is looking ahead at the 2020/21 salary cap situations for all 30 NBA teams. Due to the impact of the coronavirus pandemic on the NBA, it's impossible to know yet where the cap for 2020/21 will land. Given the league's lost revenue, we're assuming for now that it will stay the same as the '19/20 cap, but it's entirely possible it will end up higher or lower than that.

After winning an NBA-high 60 games in 2018/19, the Bucks were on pace to blow past that win total in 2019/20 — the team had a league-best 53-12 record when the season was suspended in March.
Of course, this time around, Milwaukee was hoping for a better outcome than last year's Eastern Conference Finals loss to Toronto. If the season can be resumed, the Bucks' success in the postseason may well factor into Giannis Antetokounmpo's decision on his future, which will in turn significantly impact the organization's long-term cap outlook.
Here's where things stand for the Bucks financially in 2020/21, as we continue our Salary Cap Preview series:
Guaranteed Salary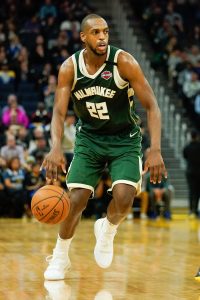 Khris Middleton ($33,051,724)
Giannis Antetokounmpo ($27,528,088)
Eric Bledsoe ($16,875,000)
Brook Lopez ($12,697,675)
George Hill ($9,590,602)
D.J. Wilson ($4,548,280)
Jon Leuer ($3,169,348) — Waived via stretch provision
Donte DiVincenzo ($3,044,160)
Larry Sanders ($1,865,546) — Waived via stretch provision
Thanasis Antetokounmpo ($1,701,593)
Total: $114,072,016

Player Options
Team Options
Non-Guaranteed Salary
Restricted Free Agents
Sterling Brown ($2,023,150 qualifying offer / $2,023,150 cap hold): Bird rights
Frank Mason (two-way qualifying offer / $1,445,697 cap hold): Non-Bird rights
Cameron Reynolds (two-way qualifying offer / $1,445,697 cap hold): Non-Bird rights
Total (cap holds): $4,914,544

Unrestricted Free Agents / Other Cap Holds
Pat Connaughton ($2,239,965): Early Bird rights
No. 24 overall pick ($2,193,480)
Kyle Korver ($1,620,564): Non-Bird rights
Marvin Williams ($1,620,564): Non-Bird rights
Total: $7,674,573
Offseason Cap Outlook

With $114MM in guaranteed money already committed to just eight players, the Bucks definitely won't have cap room during the 2020 offseason, regardless of whether the cap increases beyond its current $109MM figure.
If (Robin) Lopez and Matthews exercise their player options, Ilyasova returns on his non-guaranteed salary, and Milwaukee keeps its first-round pick, the team would be right up against the tax line and would likely be limited to the taxpayer mid-level exception rather than having the full MLE or bi-annual exception available.
Depending on where exactly the cap lands, I could see the Bucks parting with Ilyasova to gain some added flexibility. He has played a pretty modest role this season and clearing his $7MM salary would increase the odds of avoiding the tax and possibly even opening up the club's full MLE, though that still could be a tight fit.
Cap Exceptions Available
Taxpayer mid-level exception: $5,718,000 2
Footnotes
Ilyasova's salary becomes fully guaranteed after October 18.
This is a projected value. If the Bucks' team salary doesn't approach the tax apron, they could instead have access to the full mid-level exception ($9,258,000) and the bi-annual exception ($3,623,000).
Note: Minimum-salary and rookie-scale cap holds are based on the salary cap and could increase or decrease depending on where the cap lands.
Salary information from Basketball Insiders and Early Bird Rights was used in the creation of this post. Photo courtesy of USA Today Sports Images.