Hoops Rumors is previewing the 2020 offseason for all 30 NBA teams. We're looking at the key questions facing each club, as well as the roster decisions they'll have to make this fall. Today, we're focusing on the Toronto Raptors.

---
Salary Cap Outlook
Toronto has about $85MM committed to eight players and a first-round pick so far for the 2020/21 season, assuming Stanley Johnson opts in and the team retains Matt Thomas and Terence Davis. That theoretically puts the Raptors in position to create cap room, but re-signing one or more of their own veteran free agents – including Fred VanVleet and/or Serge Ibaka – will likely eliminate that room.
We're assuming Toronto will operate as an over-the-cap club. Depending on what happens with VanVleet, Ibaka, and Marc Gasol, the team will likely have the full mid-level exception ($9.26MM) available. If re-signing those veterans gets pricey, the Raptors may instead have to work with the taxpayer MLE ($5.72MM). Either way, the team won't have its bi-annual exception, having used it last season.
Our full salary cap preview for the Raptors can be found right here.
---
Roster Decisions To Watch
Options:
Stanley Johnson, player option: $3,804,150
Non-Guaranteed Contracts: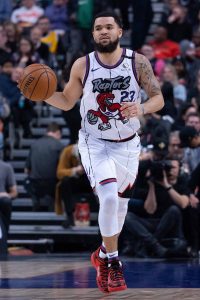 Matt Thomas ($1,517,981)

Note: Partially guaranteed for $725K.

Terence Davis ($1,517,981)
Dewan Hernandez ($1,517,981)
Two-Way Contracts:
Free Agents:
---
2020 Draft Assets
First Round:
Second Round:
The Raptors, who finished the 2019/20 season with the NBA's second-best record, didn't trade away either of their draft picks and didn't acquire any extra selections for this year.
---
Three Key Offseason Questions
1. Will the Raptors re-sign Fred VanVleet?

The Raptors haven't been shy about signing their own players to lucrative new contracts and extension in recent years. Kyle Lowry has signed a pair of new deals since 2017, both of which paid him more than $30MM annually; Serge Ibaka got a long-term deal worth nearly $22MM per year in 2017; and Pascal Siakam received a maximum-salary extension last fall.
That pattern suggests that the team should have no qualms about locking up VanVleet to a new contract this offseason that fairly reflects his market value. But even if the Raptors feel that way – and I think they do – their long-term salary cap outlook complicates matters.
Toronto has long had its eye on Giannis Antetokounmpo, who can become an unrestricted free agent in 2021 and is close with Raptors president of basketball operations Masai Ujiri. For the time being, Siakam's $31MM cap hit is the only guaranteed money on the Raps' books for 2021/22, and even though the team will also have to account for Norman Powell's player option, cap holds for OG Anunoby and Terence Davis, and some other small charges, that leaves plenty of room for a maximum-salary player.
However, if VanVleet signs a pricey new multiyear deal, his '21/22 cap charge would cut into that remaining cap space in a major way.
We have no clear sense yet of where the NBA's salary cap will land for '21/22, and Powell's extension and Anunoby's next contract are wild cards that could affect how much flexibility the Raptors actually have a year from now. But as long as Ujiri and the Raps still have an outside shot at Antetokounmpo, the sense is that the franchise will want to maximize its cap room for 2021 as much as possible — and that will affect how much the club is willing to offer VanVleet this fall.
Now, that doesn't mean that the Raptors will only be willing to offer a one-year contract to VanVleet. The expectation is that Toronto will still be able to make a competitive offer in the four-year, $80MM range for the starting guard. Structuring the deal so that it declines in value in year two before increasing again for the remaining years would create a small amount of added flexibility for the Raptors in 2021 as well.
Still, with Anthony Davis and Brandon Ingram considered virtual locks to return to their respective clubs, VanVleet may end up being the top free agent on the market this offseason. Rebuilding teams with plenty of cap room – such as the Pistons, Hawks, and Knicks – will be in position to top a four-year, $80MM offer if they so choose.
If one of those teams is willing to offer $10-15MM more than Toronto does, would that difference be enough to convince VanVleet to jump ship for a lottery club? What if one of those clubs goes even higher?
Would the Raptors be willing to increase their own offer and sacrifice potential a max-salary slot for 2021, figuring that if Antetokounmpo or another top free agent really wants to come to Toronto, they'll be able to figure out a way to make it happen? And would the Raptors change their approach on VanVleet at all if Giannis re-ups with Milwaukee this offseason?
At this point, I think it's probably more likely than not that the Raptors will be able to retain VanVleet rather than losing him for nothing, but the situation definitely isn't cut-and-dried, and it will be fascinating to see how it plays out.
2. Will the Raptors re-sign Marc Gasol and/or Serge Ibaka?

While VanVleet is the Raptors' top priority in free agency, two of the team's other top seven players are eligible for new deals this fall as well — Gasol and Ibaka.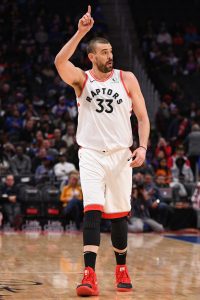 It's possible that Gasol – who will turn 36 this winter – will decide to return home to Spain, joining his old team in Barcelona. So far though, there has been no confirmation that that's his plan, as rumors suggesting a potential reunion between the veteran center and the Spanish club were quickly shot down. So an NBA deal remains in play for Gasol.
As for Ibaka, there's no doubt he'll be continuing his career in the NBA. The 31-year-old is coming off one of his best seasons as a pro, having averaged 15.4 PPG and 8.2 RPG on .512/.385/.718 shooting in 55 games (27.0 MPG). His ability to stretch the floor on offense and protect the rim on defense should make him one of the more intriguing big men on the market this offseason.
If the Raptors bring back VanVleet, re-signing both Gasol and Ibaka may be a long shot. Unless at least one of the two accepts a team-friendly deal, Toronto would be at risk of going into tax territory by re-signing all of its key free agents. And given the way the NBA is trending, it doesn't make sense for the team to invest big money in a pair of aging centers.
Re-signing one of the two seems realistic though, and I'd expect the Raptors to prioritize Ibaka. While Gasol's box-score numbers undersell his value as a defender, passer, or screen-setter, he had clearly lost a step or two by the end of the 2019/20 season, and expecting a bounce-back year in his 13th NBA season is probably ill-advised.
The Raptors' plan for Ibaka will likely be similar to what they did for Lowry — offer him a lucrative one-year contract that expires in 2021, allowing the club to retain flexibility for that offseason. Toronto should be able to afford to pay Ibaka a salary close to what he made last year ($23MM) without getting too close to the tax threshold. I wouldn't expect any other teams to go anywhere near that figure, given the lack of leaguewide cap room.
If Ibaka does get a competitive multiyear offer from another team, the Raptors could shift their focus to a one-year deal for Gasol and perhaps use their mid-level exception to add more frontcourt depth.
3. Will the Raptors extend Masai Ujiri and Bobby Webster soon?

The Raptors have one notable extension-eligible player this offseason, but a deal for that player (Anunoby) may not be a top priority. Although Toronto would certainly like to keep Anunoby in the picture for years to come, an early extension would eat into their 2021 cap space, and the team will have an opportunity to lock up the young forward as a restricted free agent next year.
For the time being then, the Raptors' most important extension candidates are in their front office. Toronto's president of basketball operations (Ujiri) and general manager (Webster) are entering the final year of their respective contracts, and signing them to new ones has to be a top priority for the organization.
The Raptors already completed a new deal with head coach Nick Nurse this fall, and a report around that time suggested there were rumblings this summer that extensions for Ujiri and Webster were likely to follow. Over a month later though, there's still no update on either front.
There's no reason for Raptors fans to panic yet. Interest in Ujiri and Webster from rival franchises has frequently been rebuffed, and Larry Tanenbaum – the chairman of the team's ownership group – has vowed to get something done.
Still, fans in Toronto will be able to breathe a little easier if and when word of new deals for the team's top decision-makers breaks. Ujiri and Webster have led a front office that has become one of the NBA's best at identifying under-the-radar talent, and they've helped turn the Raptors into one of the league's more respected franchises.
Five or 10 years ago, the idea of a player of Antetokounmpo's caliber giving any consideration to making the move to Toronto would have been laughable. It's still probably a long shot, but it can no longer be dismissed out of hand — Ujiri and his group have made the Raptors a team that players around the league have to take seriously.
That progress wouldn't necessarily be undone if Ujiri and/or Webster leaves next year, but keeping the duo around would be the best way for the Raptors to continue building on that progress.
Information from Basketball Insiders and ESPN was used in the creation of this post. Photos courtesy of USA Today Sports Images.