Although talks between the Wizards and Rockets on a potential Russell Westbrook/John Wall trade have stalled, Wall has made it clear that he wants to be traded out of Washington, sources tell Shams Charania of The Athletic (Twitter link).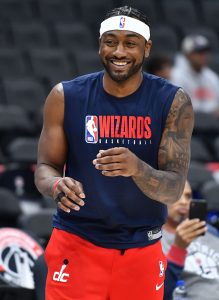 This is a surprising development, as Wall has spent his entire career in D.C. and has spent the better part of two years rehabbing multiple injuries, including a torn Achilles. Having last played on December 26, 2018, Wall appeared poised to return for the Wizards next month, joining forces with Bradley Beal and a newly re-signed Davis Bertans in an effort to get the team back into the postseason.
It's still possible that will happen. Just because Wall is seeking a trade, that doesn't mean the Wizards have to oblige. Wall, who has one of the least team-friendly contracts in the NBA still has three years and nearly $133MM left on his deal.
Moving that contract will be a challenge – especially given how long it's been since teams have seen Wall play – and the 30-year-old doesn't have a ton of leverage to force Washington's hand, since he's so far removed from free agency. Westbrook's deal is one of the few in the same ballpark financially, but the Rockets would be seeking additional assets in any swap involving the two All-Star point guards.
The Wizards' biggest concern may be the ripple effect of Wall's stance. So far, the team has been adamant that it has no intention of trading Bradley Beal and that it wants to see its backcourt fully healthy and back in action this season. In Houston, Westbrook and James Harden both asked to be traded one after the other — general manager Tommy Sheppard won't want to see that scenario play out with Washington's star guards.
Before his 2018/19 season ended prematurely, Wall had been averaging 20.7 PPG, 8.7 APG, and 3.6 RPG in 34.5 minutes per contest.
Photo courtesy of USA Today Sports Images.