The Knicks have officially completed their addition of Austin Rivers in a sign-and-trade deal with the Rockets rather than signing him outright, announcing the move today in a press release.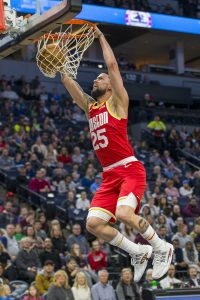 The move also sends the draft rights of three players – guard Sergio Llull, forward Tadija Dragicevic, and forward Axel Hervelle – to New York. In exchange, the Rockets receive the draft rights to guard Issuf Sanon and create a modest trade exception.
Rivers had agreed over the weekend to sign a three-year, $10MM deal with the Knicks. The final two years of his new contract are non-guaranteed, which is permitted under sign-and-trade rules.
The inclusion of Llull in this deal is the most interesting new piece of information. The Rockets have long attempted to get the Spanish guard, who was selected 34th overall in the 2009 draft, to come stateside and play in the NBA, but he has preferred to remain in his home country with Real Madrid — he has played for the EuroLeague club since 2007.
At age 33, Llull seems increasingly unlikely to ever make the move to the NBA. That's even more true of Dragicevic and Hervelle, who were drafted in 2008 and 2005, respectively, and are in their mid-30s now. However, their rights could be useful as filler in future trades.
Sanon, who has played for Slovenian and Ukrainian teams since being drafted in 2018, is still a candidate to eventually sign an NBA contract. He was the 44th overall pick two years ago and is still just 21 years old.
Of course, the only player of immediate importance in the deal is Rivers, who will add some veteran experience to the Knicks' backcourt in 2020/21. He averaged 8.8 PPG and 2.6 RPG on .421/.356/.703 shooting in 68 games (23.4 MPG) for the Rockets last season.
New York will technically be hard-capped as a result of acquiring a player via sign-and-trade. The team remains far below the cap for the time being though, so it's fair to assume that $138.93MM hard cap won't become an issue in 2020/21.
Photo courtesy of USA Today Sports Images.