The Pistons and Nets have reached an agreement on a minor trade, according to ESPN's Adrian Wojnarowski, who reports (via Twitter) that Detroit is sending guard Bruce Brown to Brooklyn in exchange for forward Dzanan Musa and a 2021 second-round pick. The Pistons will also receive cash in the swap, tweets Omari Sankofa II of The Detroit Free Press.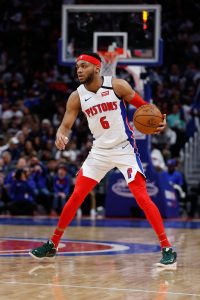 Brown, the 42th overall pick in the 2018 draft, has started 99 games in his first two professional seasons, appearing in 132 in total. Last season, he averaged 8.9 PPG, 4.7 RPG, and 4.0 APG with a .443/.344/.739 shooting line in 28.2 minutes per contest.
Musa was the 29th overall pick in the same draft, but has less of a professional track record than Brown, having only logged minutes in 49 total games so far. He recorded just 4.8 PPG and 2.2 RPG on .372/.244/.750 shooting in 40 games (12.2 MPG) in 2019/20.
The 2021 second-round pick being sent to Detroit in the deal won't be the Nets' own pick, which Brooklyn traded away in a previous move. It'll be Toronto's '21 second-rounder, per Wojnarowski (Twitter link).
Brown has a non-guaranteed minimum salary ($1.66MM) for 2020/21 which will have to be guaranteed to make the trade work. He'll be a restricted free agent in a year. As for Musa, he'll earn a guaranteed $2MM salary next season, and Detroit will have until December 29 to decide whether or not to pick up his $3.62MM fourth-year option for 2021/22.
It's easy to see why the deal makes sense for the Nets, who will save a little money and pick up a more reliable role player. They're high on Brown's defensive ability, Wojnarowski notes. Plus, as Kevin O'Connor of The Ringer observes (via Twitter), Brown gives the club added depth in the event of a possible Spencer Dinwiddie trade.
The Pistons' motivation is a little less clear, but it's worth noting that a new general manager – Troy Weaver – is making personnel decisions in Detroit now, so he wouldn't have had any real attachment to Brown. Woj suggests (via Twitter) that Weaver's first trade as the Pistons' GM is the start of the process of "gathering future picks and assets."
The NBA's trade moratorium will end at noon eastern time today, so the Pistons and Nets can officially finalize their deal anytime after that point.
Photo courtesy of USA Today Sports Images.