NOVEMBER 22: The deal is now official, according to a press release from the Trail Blazers. Covington goes to Portland in exchange for Ariza, the draft rights to No. 16 pick Isaiah Stewart, and the Blazers' protected 2021 first-round pick.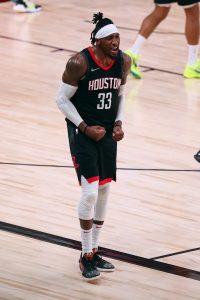 Houston can now flip Ariza and Stewart to the Pistons, who will in turn send Ariza to Oklahoma City.
---
NOVEMBER 16: The Rockets and Trail Blazers are finalizing an agreement on a trade that will send forward Robert Covington to Portland, reports ESPN's Adrian Wojnarowski (via Twitter). In exchange for Covington, Houston will acquire forward Trevor Ariza, the No. 16 pick in the 2020 draft, and Portland's protected 2021 first-round selection, sources tell Wojnarowski.
While Covington isn't the Rocket whose name has been mentioned most frequently in trade rumors during the last week or two, the fact that Houston is willing to move him indicates the team is no longer satisfied to simply run it back for the 2020/21 season. James Harden and Russell Westbrook are, of course, both reportedly hoping to be dealt this fall, so we'll have to wait to see if this trade is a precursor to larger moves for the Rockets.
It was only nine months ago that the Rockets surrendered Clint Capela and a first-round pick in a four-team deal to acquire Covington, a three-and-D wing whom the team viewed as an ideal fit for its system. The 29-year-old did fit in well in Houston, averaging 11.6 PPG and 8.0 RPG in 22 games (33.0 MPG) down the stretch, though he struggled with his shot (.392 FG%, .315 3PT%). Covington was more reliable in the postseason, making 50.0% of his three-point attempts.
Ariza, who also plays a three-and-D role, is no stranger to Houston, having had two previous stints with the organization. Although he's 35 years old, Ariza was still a solid contributor in Portland last season, averaging 11.0 PPG and 4.8 RPG with a .491/.400/.872 shooting line in 21 games (33.4 MPG) after being acquired in a trade-deadline deal. He opted out of the NBA's restart this summer in Orlando.
Covington ($12.1MM) and Ariza ($12.8MM) have similar salaries for the 2020/21 season, though Ariza's money is mostly non-guaranteed. It'll need to be guaranteed for salary-matching purposes, tweets ESPN's Bobby Marks. While Ariza's deal is set to expire a year from now, Covington's contract is a little more team-friendly, running through 2022.
Covington's age, contract, and versatility were all presumably factors in Portland's decision to give up its next two first-round picks along with Ariza to land him. The veteran forward will join a lineup that will also feature Damian Lillard, CJ McCollum, and Jusuf Nurkic. Rodney Hood, Gary Trent Jr., and Zach Collins are among the candidates to fill out an impressive starting five.
The trade will have to be officially completed after the Blazers pick at No. 16 on behalf of the Rockets on Wednesday, since teams aren't allowed to leave themselves with no first-round picks in two consecutive future drafts. Once the 2020 draft is over, Portland will be able to trade its 2021 pick.
Photo courtesy of USA Today Sports Images.