NOVEMBER 22, 2:43pm: Erik Horne of The Athletic confirms (via Twitter) that the Warriors' first-round pick headed to Oklahoma City will be top-20 protected. If it doesn't convey, per Horne, the Thunder will instead receive Minnesota's 2021 second-round pick (along with the Nuggets' 2021 second-rounder, which they'll get either way).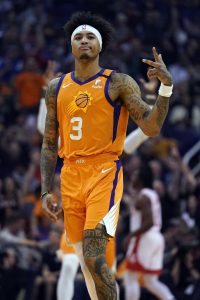 ---
NOVEMBER 22, 2:27pm: The trade is now official, the Thunder announced in a press release. Oubre is headed to Golden State in exchange for the Warriors' protected 2021 first-round pick and Denver's 2021 second-round pick, per the team.
---
NOVEMBER 19, 8:10pm: The Thunder and Warriors are finalizing a swap that will send Oubre to Golden State in exchange for the Warriors' protected 2021 first-round pick, reports Wojnarowski (via Twitter). Anthony Slater of The Athletic tweets that it has top-20 protection.
The Thunder will create a trade exception worth Oubre's $14.4MM salary, assuming they intend to remain over the cap as they complete their offseason moves.
---
NOVEMBER 19, 3:55pm: The Thunder are engaged in serious talks about a trade that would send Kelly Oubre to the Warriors, according to Shams Charania of The Athletic (Twitter link). The two sides are nearing an agreement, adds Adrian Wojnarowsi of ESPN (Twitter link).
It remains to be seen what the Thunder would acquire in a deal involving Oubre, but it's a safe bet that GM Sam Presti would be looking to add at least one more future draft pick to his constantly-growing collection of them.
A deal sending Oubre to Golden State would almost certainly see the Warriors absorb his $14.4MM salary using the team's $17.2MM trade exception. That exception allows the Dubs to acquire up to $17.2MM in salary without sending out any salary themselves.
Although a trade along these lines has long been the subject of speculation, it's still a little surprising that the Warriors are willing to take on the increased tax bill that adding Oubre's salary would create. As Bobby Marks of ESPN explains (via Twitter), based on current projections, Oubre would increase Golden State's projected tax payment by about $68MM, resulting in a total increase of over $82MM after taking into account his actual salary.
The Warriors would likely get a bit of a break on that, since the NBA has said tax penalties will be reduced by the same amount that the league falls short of its revenue projection in 2020/21, but it's still a massive commitment by the franchise.
However, Warriors ownership has exhibited a willingness to spend, and Oubre – who turns 25 next month – is a logical addition for a team that needed help on the wing even before word broke that Klay Thompson had suffered a torn Achilles.
In 2019/20, Oubre averaged a career-high 18.7 PPG in 56 games (34.5 MPG) for the Suns, chipping in 6.4 RPG and 1.3 SPG with a .453/.352/.780 shooting line. Phoenix, recognizing he wasn't part of the team's long-term plans, sent him to Oklahoma City in the Chris Paul blockbuster earlier this week.
Photo courtesy of USA Today Sports Images.