NOVEMBER 27: The Timberwolves have made it official, announcing today in a press release that Beasley has re-signed with the team.
---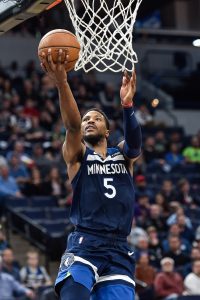 NOVEMBER 20: The Timberwolves have reached a deal to re-sign restricted free agent shooting guard Malik Beasley, agent Brian Jungreis tells Shams Charania of The Athletic (Twitter link).
Beasley will sign a four-year, $60MM contract to remain in Minnesota, according to Charania, who reports – along with Jon Krawczynski of The Athletic (Twitter link) – that the deal includes a team option in year four.
After a strong breakout season in Denver in 2018/19, Beasley had his role reduced at the start of the 2019/20 season and was eventually shipped to Minnesota in a deadline deal. He had the best stretch of his career in 14 games as a Timberwolf, averaging 20.7 PPG and 5.1 RPG on .472/.426/.750 shooting, lining himself up for a nice payday as a restricted free agent.
There was a sense that Beasley's recent legal troubles may complicate his RFA payday, but if those off-court issues affected his value, it doesn't appear the impact was significant. He faces felony charges of fifth-degree drug possession and threats of violence after being arrested in September and recently had his parental rights challenged.
However, the franchise has supported Beasley through that situation, according to Krawczynski, who notes (via Twitter) that this new deal represents a "big show of faith." It seems the Timberwolves still view the young wing – who turns 24 next week – as a building block for the future — he'll join Karl-Anthony Towns, D'Angelo Russell, and No. 1 pick Anthony Edwards as the cornerstone pieces in Minnesota.
Photo courtesy of USA Today Sports Images.