All of 2020's top 50 free agents are off the board. LeBron James, Jayson Tatum, and several other notable players have signed contract extensions. Every 2020 draftee who is expected to sign a contract for the coming season has done so.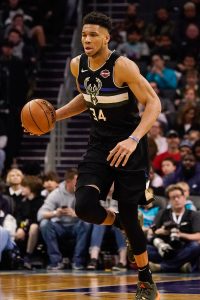 However, we'll still waiting for news on the biggest contract question of the NBA offseason: Will Giannis Antetokounmpo sign a super-max extension with the Bucks?
Antetokounmpo's decision figures to have a seismic impact on the rest of the league. Besides potentially making or breaking the Bucks' future, it'll also be a crucial turning point for all the teams who are maintaining cap flexibility in the hopes of making a run at the reigning MVP in 2021 free agency, including the Mavericks, Raptors, and Heat.
Even the teams that have no shot at landing Antetokounmpo themselves will be keeping a close on his situation, since the NBA's balance of power could shift depending on where the star forward decides to spend the next few years of his career.
The Bucks and Antetokounmpo have until December 21 to finalize a super-max extension, which would add five years onto his current deal and pay him a projected $228.2MM (assuming the cap increases by 3% for 2021/22). If the two sides don't reach an agreement by that point, Antetokounmpo will be on track to reach free agency in 2021, putting significant pressure on the Bucks to prove during the coming season that they're a legitimate championship contender.
Reports leading up to the offseason indicated that the Bucks were projecting confidence about their chances of locking up Giannis before the regular season began, but Zach Lowe of ESPN said on The Jump on Tuesday (video link) that the team has "gone kind of silent" since then.
That doesn't necessarily mean that the Bucks aren't still confident, but it's somewhat concerning when combined with reports that Antetokounmpo had been looking forward to teaming up with Bogdan Bogdanovic, who was seemingly on track to join the Bucks in a sign-and-trade deal last month before it fell apart.
Still, the Bucks have posted the NBA's best record for two consecutive seasons and added Jrue Holiday to the mix for 2020/21. There's no reason why they shouldn't be one of the best teams in the NBA again this season, and Holiday increases their postseason upside.
Antetokounmpo's teammates also don't seem too concerned about his contract situation, having jokingly gifted him with pens for his 26th birthday on Sunday, as Eric Woodyard of ESPN details.
It's worth noting that the Bucks and Antetokounmpo could still complete the same five-year super-max extension during the 2021 offseason — they don't necessarily have to get it done now.
But if he decides to wait, Giannis would be signaling that he wants to keep his options open, and speculation about his future would only increase over the course of the year, since super-max deals can't be signed during the season. He won't be able to get any more money by waiting, so if he knows he wants to stay in Milwaukee long-term, it makes sense for him to sign that new deal sooner rather than later.
What do you think? Will Antetokounmpo sign a super-max extension with the Bucks sometime in the next 12 days? Or will he forgo a new deal this month, choosing to keep his options open as his 2021 free agency approaches?
Vote in our poll, then head to the comment section below to share your thoughts!
Trade Rumors app users, click here to vote.
Photo courtesy of USA Today Sports Images.