The NBA's free agent period will tip off on Friday evening at 5:00 pm central time, with deals permitted to be officially consummated as of Sunday at 11:01 am CT.
Listed below are our top 50 free agents for the 2020/21 NBA season. The players on this list are on track to become free agents tonight.

Our rankings take into account both a player's short-term and long-term value. If we were to consider solely a player's worth for the 2020/21 season, a veteran like Goran Dragic would likely place higher, while younger free agents with upside, such as Dragic's teammate Derrick Jones, might be ranked a little lower.
In addition to the players listed below, there are plenty of other notable free agents available this summer. You can check out our breakdowns of free agents by position/type and by team for the full picture.
Here are our top 50 free agents of 2020:
---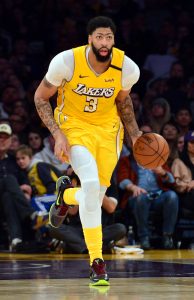 1. Anthony Davis, F/C, Lakers
There's no mystery about where this year's top free agent will sign. After winning a title during his first year in Los Angeles, Davis opted out of his contract, but only so that he can ink a new contract with the Lakers that increases his salary and potentially locks him in for multiple years.
2. Brandon Ingram, F, Pelicans (RFA)
Besides Davis, Ingram is the only 2020 All-Star eligible for free agency this offseason. And like Davis, he's unlikely to go anywhere. The Pelicans have the right to match any offer sheet Ingram signs, and will certainly bring him back after a breakout season in which he averaged a career-best 23.8 PPG.
3. Fred VanVleet, G, Raptors
VanVleet has only started 82 games in his NBA career, but has emerged as one of the most popular free agents of 2020. That's partly due to a lack of star power on this year's market, but also because of the impressive step forward he has taken since the 2019 postseason. He established new career highs in several categories in 2019/20, including PPG (17.6) and APG (6.6).
4. Gordon Hayward, F, Celtics
At one point, Hayward looked like a lock to exercise his $34.2MM player option for 2020/21. The fact that he turned down that option suggests he's pretty confident he'll land a lucrative long-term deal on the open market, either from Boston or another team. We'll trust his confidence. If Hayward doesn't sign a three- or four-year contract with an overall guarantee that doubles – or even triples – the amount of his option, I'd be surprised.
5. Danilo Gallinari, F, Thunder
Gallinari has battled injuries at times during his 12-year NBA career, but has been relatively healthy and very productive during the last couple seasons. A 41.8% shooter from beyond the arc over the last two years, the 32-year-old will appeal to teams looking for a frontcourt player who can stretch the floor without being a major defensive liability.
6. Bogdan Bogdanovic, G, Kings (RFA)
It's already been an eventful free agent week for Bogdanovic, who appeared to be on track to join Milwaukee in a sign-and-trade before it reportedly fell apart and became the subject of a league investigation. Assuming Bogdanovic is really prepared to shop around for an offer sheet, there should be several teams excited to have a renewed shot at the versatile swingman and clutch scorer who has increased his scoring average every year since he entered the league in 2017.
7. Joe Harris, G/F, Nets
Every NBA team would welcome another shooter, and few in the NBA are better than Harris, who led the NBA with a .474 3PT% in 2018/19 before putting up "only" a .424 3PT% last season. He's still just 29 years old, so he should have plenty of prime years left in him.
8. Davis Bertans, F, Wizards
Bertans decided not to participate in the NBA's restart this summer, citing his history of ACL injuries when he opted out. Still, the decision shouldn't hurt the 28-year-old's value on the open market — Bertans' .424 3PT% on 8.7 three-point attempts per game make him one of the game's most valuable stretch fours.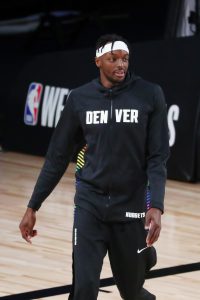 9. Jerami Grant, F, Nuggets
Grant's on-off numbers during his first year in Denver were somewhat worrisome, but he played the role the Nuggets expected him to, knocking down three-pointers (.389 3PT% in the regular season) and playing tough defense. He took on additional minutes in the postseason with Will Barton sidelined and was an important factor in the team's run to the Western Conference Finals.
10. Christian Wood, F/C, Pistons
It's safe to assume that Wood, who has only ever played on minimum-salary contracts in the NBA, is in line for a major raise this fall. After entering the Pistons' starting lineup down the stretch, he posted 22.8 PPG, 9.9 RPG, 1.0 BPG, and a shooting line of .562/.400/.757 in his final 13 games. Now he'll enter unrestricted free agency at age 25.
11. Montrezl Harrell, C, Clippers
Harrell's stock slipped a little as a result of his play in the Walt Disney World bubble, where the Clippers looked better with Ivica Zubac manning the middle. But he's still the NBA's reigning Sixth Man of the Year, a dynamic rim-runner who can score (18.6 PPG), rebound (7.1 RPG), and even protect the rim a little (1.1 BPG).
12. Kentavious Caldwell-Pope, G/F, Lakers
Caldwell-Pope's production has been up and down since he joined the Lakers in 2017, and he never really stood out on the lottery teams in his first two years in L.A. But on this season's championship squad, the 27-year-old was L.A.'s third-best player in the NBA Finals, significantly boosting his appeal to teams in search of a three-and-D wing.
13. Serge Ibaka, C, Raptors
Ibaka, 31, isn't the rim-protecting menace he was during his days with the Thunder, when he led the NBA in blocks in consecutive seasons. But he's still a strong interior defender who can hold his own on switches and contributes on offense. His three-point shooting in 2019/20 was particularly strong — 38.5% in the regular season and a scorching 51.1% in the playoffs.
14. Jae Crowder, F, Heat
Like Caldwell-Pope, Crowder is a three-and-D player who has the size to guard bigger wings and played some of his best basketball at exactly the right time. Crowder made 44.5% of his threes for Miami in 20 games to finish the season, then started all 21 postseason contests as the Heat came within two wins of a title. The Heat will probably try to re-sign the 30-year-old to a lucrative one-year deal, but he'll receive multiyear interest from rival suitors.
15. Malik Beasley, G, Timberwolves (RFA)
Beasley looked like a potential top-10 free agent before his recent legal troubles. It's hard to know at this point whether teams will view his off-court behavior as an isolated misstep or an inauspicious omen for the future. If he's evaluated based primarily on his production with Minnesota down the stretch (20.7 PPG and 5.1 RPG with a .426 3PT% in 14 games), the swingman should do very well as a restricted free agent.
16. Marcus Morris, F, Clippers
Morris was far more productive with the Knicks (19.6 PPG, .439 3PT%) than with the Clippers (10.1 PPG, .310 3PT%). His next deal will depend on which numbers teams view as more of an outlier. Even if clubs aren't bullish on Morris' offensive output, he has value as a big, versatile forward who is capable of guarding high-scoring wings.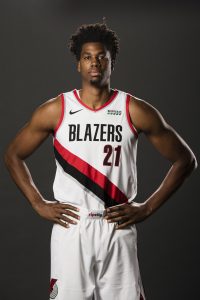 17. Hassan Whiteside, C, Trail Blazers
Whiteside has faced criticism for his inconsistent effort on defense and a perception that he's focused on his own stats. Still, it's hard to argue that he didn't have a positive impact in Portland in 2019/20. The veteran center led the lead in blocks (2.9 BPG) and the Blazers' net rating was 8.2 points better when he was on the floor.
18. Derrick Jones, G/F, Heat
Jones will reach unrestricted free agency at age 23, making him an intriguing target for young teams looking for a long-term investment who could grow along with their rest of their core. A rotation player in Miami for most of the season, Jones didn't contribute much during the Heat's run to the Finals, but is a tremendous athlete and a strong perimeter defender who still has room to improve.
19. Goran Dragic, G, Heat
Dragic played a far more important role than Jones in the Heat's playoff success this year, but his age (34) and the fact that he's coming off a foot injury will likely limit his value on the open market. The veteran guard is a good bet to return to Miami, but if he doesn't, teams in need of a reliable stopgap at the point should be all over him.
20. De'Anthony Melton, G, Grizzlies (RFA)
Melton's box-score numbers (7.6 PPG, 3.7 RPG, and 2.9 APG) are underwhelming, but he's still just 22 years old and does a lot of little things well, especially on defense. The Grizzlies had a +5.1 net rating when he played in 2019/20, compared to a -4.0 mark when he was on the bench.
21. Jakob Poeltl, C, Spurs (RFA)
Poeltl's role has been somewhat limited in San Antonio — he averaged just 17.7 minutes per game this season. But the 25-year-old has shown promising rim-protecting ability (1.4 BPG) and brings effort and energy off the bench. While his limited offensive game may hurt him on the open market, a team could certainly do worse than having Poeltl as its backup center.
22. Paul Millsap, F/C, Nuggets
No one will be offering the 35-year-old Millsap a four-year deal this offseason, but he showed in 2019/20 that he can still be productive and help stabilize a defense. I'd expect multiple teams with championship aspirations to pursue Millsap with their mid-level exceptions — we'll see if the Nuggets are willing to go any higher than that on a short-term deal to bring him back.
23. Jordan Clarkson, G, Jazz
Clarkson thrived in Utah after being traded from the Cavs to Jazz last December, providing the club with instant offense off the bench. He averaged 15.6 PPG and knocked down 36.6% of his threes in 42 games for his new team, and re-signing him will be a priority for the Jazz.
24. Dario Saric, F, Suns (RFA)
Saric hasn't taken a major step forward during his four NBA seasons — his 10.7 PPG and .357 3PT% in 2019/20 were both slightly below his career averages. Still, his floor is fairly high and he's only 26, so there could be room for further improvement. Phoenix's decision to remain over the cap in free agency is likely tied to the team's desire to retain Saric as the team's stretch four.
25. Derrick Favors, C, Pelicans
Favors is unlikely to match last season's $17.65MM on his next contract, but the 29-year-old is an underrated and reliable option in the middle, having started 441 games since the 2013/14 season. The 29-year-old even nearly averaged a double-double in New Orleans in 2019/20, with 9.0 PPG and 9.8 RPG in 51 games (24.4 MPG).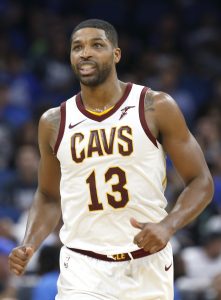 26. Tristan Thompson, C, Cavaliers
Thompson had one of his best seasons in 2019/20, averaging a double-double (12.0 PPG, 10.1 RPG) with a career-high in APG (2.1). He doesn't necessarily have the versatility or shooting ability that teams would like to see from their bigs, but his skill set has value and he still has some prime years left.
27. Kris Dunn, G, Bulls
Dunn's usage rate dipped all the way to 14.6% in 2019/20, and it's becoming increasingly clear he'll never be a real threat on offense. But there are few perimeter defenders in the NBA more talented than the 26-year-old, who was a strong candidate for an All-Defensive nod before a knee injury prematurely ended his season.
28. Aron Baynes, C, Suns
Pressed into starting duty last fall due to Deandre Ayton's suspension, Baynes more than held his own, enjoying his best season as a pro in Phoenix. A solid defender and screen-setter, Baynes even showed off an improved three-point shot for the Suns, knocking down 35.1% of 4.0 attempts per game. He'll turn 34 next month, so a bidding war is unlikely, but he could help a contender.
29. Rajon Rondo, G, Lakers
Rondo didn't have a great regular season in 2019/20 with the Lakers, but Playoff Rondo may help Offseason Rondo secure a significant raise. The veteran point guard's play in the postseason has him being pursued by contenders with title aspirations – like the Clippers – and young clubs like the Hawks that want his toughness and leadership in their locker room.
30. Bryn Forbes, G, Spurs
It's not clear whether or not there will be a place for Forbes going forward in the Spurs' crowded backcourt. If San Antonio doesn't make a strong effort to re-sign him, the 27-year-old should earn plenty of looks elsewhere from teams looking to improve their outside shooting. Forbes has shot 40.0% from beyond the arc for his career.
31. JaMychal Green, F, Clippers
Green's numbers don't jump off the page, but he's a reliable three-point shooter (39.4% over the last two seasons) and a pretty versatile frontcourt defender who can play the five in smaller lineups. He was important role player in the postseason for the Clippers and should draw interest from teams seeking an affordable stretch big.
32. Avery Bradley, G, Lakers
Bradley's decision to decline his $5MM player option suggests he believes he'll receive a good amount of interest on the open market, which makes sense — he's a solid defender whose .364 3PT% in 2019/20 was right in line with his career rate.
33. Rodney Hood, G/F, Trail Blazers
A healthy Hood would rank higher on this list, but we don't know what to expect from him after a season lost to an Achilles tear. The fact that he opted out of his $6MM contract with the Trail Blazers suggests that he believes he's healthy and capable of doing well for himself on the open market. Before his injury, Hood was playing extremely well as Portland's starting small forward, averaging 11.0 PPG and 3.4 RPG on .506/.493/.778 shooting in 21 games (29.5 MPG).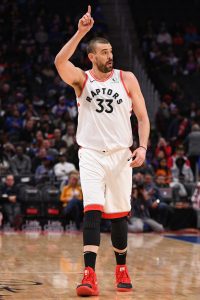 34. Marc Gasol, C, Raptors
Gasol, now 35, looked like he had lost a step this past season. However, his high basketball IQ still shone through in his ability to facilitate on offense and guard the paint on defense. A return to Spain is a possibility for Gasol, but far from a certainty.
35. Juan Hernangomez, F, Timberwolves (RFA)
Hernangomez elevated his game after being traded from Denver to Minnesota, averaging 12.9 PPG with a .420 3PT% in 14 contests as the Timberwolves' starting power forward. That brief audition should help earn him a nice multiyear deal from his new club.
36. Kent Bazemore, F, Kings
Bazemore played well for the Kings to finish the 2019/20 season, looking pretty similar to the player who secured a four-year, $70MM deal during the 2016 free agent period. Of course, there's no way Bazemore will earn anything close to that in 2020, but the 31-year-old can still be an effective part of a team's rotation as a three-and-D wing.
37. Wesley Matthews, G/F, Bucks
Matthews isn't the same player he was early in his career in Portland, but he's an extremely consistent shooter, having never had a 3PT% below .360 in a single season. He started all 67 games he played for the Bucks this season and was a bargain at the veteran's minimum. He should be able to do a little better than the minimum this time around.
38. Justin Holiday, G, Pacers
Holiday's career-best .405 3PT% this past season may have been an outlier, but even if his outside reverts to his career average (36.0%), he has value a wing who can score and defend.
39. Dwight Howard, C, Lakers
While Howard's bounce-back season was impressive, the eight-time All-Star probably isn't more than a part-time player at this point in his career. He'll turn 35 in December and can be played off the floor by smaller, quicker teams, though he's still a useful weapon against more traditional centers.
40. Mason Plumlee, C, Nuggets
Plumlee is a solid but unspectacular backup center who is a surprisingly effective facilitator on offense, averaging 2.5 assists per game in just 17.4 MPG in 2019/20.
41. Markieff Morris, F, Lakers
His twin brother got paid more and had better numbers in 2019/20, but Markieff had the last laugh, playing key rotation minutes for the Lakers all the way through the postseason and winning a ring. While some of his teammates may have improved their stock more with performances down the stretch, Morris' postseason play (including a .420 3PT%) should give him options.
42. Langston Galloway, G, Pistons
Galloway flew under the radar in Detroit in 2019/20, but enjoyed the best season of his career, with 10.3 PPG on .435/.399/.859 shooting in 66 games (25.8 MPG). A team with playoff aspirations may not wanting him starting or finishing games, but he'd be a useful addition as a second-unit scorer.
43. Maurice Harkless, F, Knicks
Harkless, who was a regular member of the Clippers' rotation for most of the season, plays good defense and doesn't need the ball on offense, making him a solid complementary player. He won't match his previous $11MM salary, but he should get more than the minimum.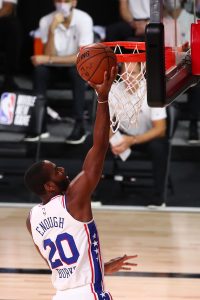 44. Alec Burks, G, Sixers
Burks had perhaps his best season as a pro in 2019/20, recording 15.0 PPG, 4.3 RPG, and 2.9 APG in 66 total games for the Warriors and 76ers. He struggled mightily in the postseason (.327 FG%, .188 3PT%), but hardly any Sixers looked good during that first-round series loss to Boston.
45. Harry Giles, C, Kings
An unrestricted free agent at 22, Giles hasn't yet had a fully healthy season, but his upside is still tantalizing enough to earn him plenty of looks in free agency this fall. He'd make sense as a target for a rebuilding team that can afford to give him regular playing time and be patient with him.
46. Jeff Teague, G, Hawks
Teague looked much better in Minnesota during the half of last season than in Atlanta down the stretch, and shouldn't be relied on as a starter anymore. However, he's extremely capable of running a second unit for a playoff team.
47. Nerlens Noel, C, Thunder
Noel has always been capable of filling up the box score, averaging 2.5 "stocks" (steals plus blocks) per game in 2019/20 despite playing just 18.5 minutes per night. He may never live up to the pre-draft hype, but the former No. 6 overall pick is a good backup center who is still just 26 years old.
48. Meyers Leonard, C, Heat
Although Leonard slipped out of the playoff rotation, he was the starting center for most of the season for the team that represented the Eastern Conference in the NBA Finals. The 28-year-old is an effective rebounder who can stretch the floor a little, making 41.4% of his threes last season.
49. Bobby Portis, F/C, Knicks
Portis is a solid scorer and shooter who isn't exactly a lockdown defender. He makes sense as an offensive weapon off the bench if a team can pair him with a frontcourt partner who is stellar on defense.
50. Reggie Jackson, G, Clippers
Jackson's role was reduced significantly in the playoffs, which will hurt his stock. However, there aren't a ton of guards in free agency this offseason capable of scoring like Jackson, who had averaged 15.7 PPG in the five seasons prior to 2019/20.
Here are 20 of the other free agents we considered:
Carmelo Anthony, F, Trail Blazers
D.J. Augustin, G, Magic
Chris Boucher, F/C, Raptors (RFA)
Jevon Carter, G, Suns (RFA)
Chris Chiozza, G, Nets (two-way RFA)
Pat Connaughton, G, Bucks
Torrey Craig, F, Nuggets (RFA)
James Ennis, F, Magic
Shaquille Harrison, G, Bulls
Rondae Hollis-Jefferson, F, Raptors
Josh Jackson, F, Grizzlies
Frank Kaminsky, F/C, Suns
Alex Len, C, Kings
Robin Lopez, C, Bucks
Jordan McLaughlin, G, Timberwolves (two-way RFA)
E'Twaun Moore, G, Pelicans
Shabazz Napier, G, Wizards
Austin Rivers, G, Rockets
Glenn Robinson, F, Sixers
Garrett Temple, G/F, Nets
There are also a handful of players who have been waived but aren't technically free agents yet and would have received consideration for spots on this list if they'd already cleared waivers, including Elfrid Payton and Ersan Ilyasova.
Photos courtesy of USA Today Sports Images.